Police Investigate a Cult Killing; It Turns Out to Be a Rock Video
Friday A/V Club: Hard Copy meets Nine Inch Nails.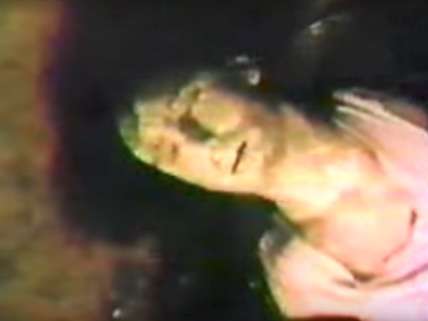 "It all began one peaceful Michigan morning," narrator Rafael Abramovitz explains, "when a farmer named Robert Reed woke up to check on his corn field. Farmer Reed looked up towards the sun that morning and saw something strange floating across the sky. It wasn't the usual flock of Canadian Geese. It looked more like a UFO, if you ask him."
So begins the tale of the time the FBI investigated the death of a man who was in fact still alive, as told by the tabloid show Hard Copy. It was 1989. The UFO turned out to be some weather balloons with a Super 8 camera attached. After they landed on his farm, Reed turned his find over to the police, thinking it might be a surveillance camera searching for marijuana. When the cops developed the film, they discovered what they took to be a cult murder or some similarly grisly crime.
A yearlong investigation followed, and in the course of it the FBI was called in. Eventually, the police figured out the truth: The supposed snuff film was actually lost footage from a Nine Inch Nails video. The crew had attached the camera to the balloons to get some low-tech aerial shots, and their helium cinematographers then blew away. The "murder victim" was Trent Reznor, and he was very much alive. Indeed, he was somewhat famous.
In the Hard Copy report, Reznor is amused by the whole thing. The cop they spoke with also seems a little amused. The one person trying very hard not to seem amused by the mistake is Abramovitz, the reporter, who's intent on making Reznor the villain of the piece, blaming him for a "wasted year of police work that could have gone into solving some real crimes." And if Abramovitz had anything to do with the tongue-in-cheek "reenactments" that accompany his narration, I suspect that deep down he was chuckling about it too.
The report aired in 1991, complete with some closing comments about the alleged dangers of rock videos. It is a work of art:
(Via Dangerous Minds. For past editions of the Friday A/V Club, go here.)