ICE Arrests Twice as Many Citizens as Illegal Immigrants, Trump to Launch Voter Fraud Commission, New Hampshire Gets Second Libertarian Party Rep: P.M. Links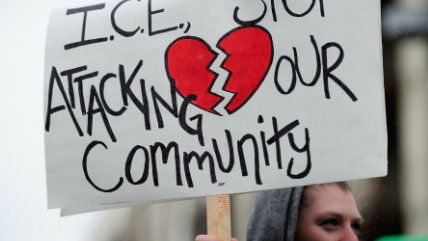 (Alex Milan Tracy/Sipa USA/Newscom)
Alex Milan Tracy/Sipa USA/Newscom

Rumor has it that President Trump is considering former Republican Congressman and FBI agent Mike Rogers and former New York City Police Commissioner Ray Kelly for James Comey's replacement at the FBI.

The latest round of federal immigrant raids yielded more than twice as many American-citizen arrests as arrests of undocumented immigrants
Trump announced Thursday the launch of a commission to investigate voter fraud as well as an examination of federal cybersecurity practices.
Former U.S. Representative Corrine Brown (D-Florida) has been found guilty of fraud and tax evasion.
New Hampshire state Rep. Joseph Stallcop announced today that he's switching his political affiliation from Democrat to Libertarian, making him the second Libertarian Party representative in the state legislature.
The Ohio Supreme Court has ruled that Columbus' Whetstone High School did not violate a student's rights when they searched his bookbag on school property.
Massachusetts may get more aggressive about civil asset forfeiture in order to shore up a sex-trafficking victims' fund.
Former members of a feminist student group at the University of Mary Washington have filed a federal lawsuit against the university over anonymous harassment they received on the (totally unaffiliated with the school) social media app Yik Yak.
Trump finds common ground with actress Rosie O'Donnell.
We finally agree on something Rosie. https://t.co/BSP5F3PgbZ

— Donald J. Trump (@realDonaldTrump) May 11, 2017
Follow us on Facebook and Twitter, and don't forget to sign up for Reason's daily updates for more content.