Lawsuit: Mississippi County Running Pervasive Police Checkpoints Targeting Black Residents
Black residents in Mississippi's richest county are "under siege" from unconstitutional checkpoints and warrantless searches, an ACLU lawsuit says.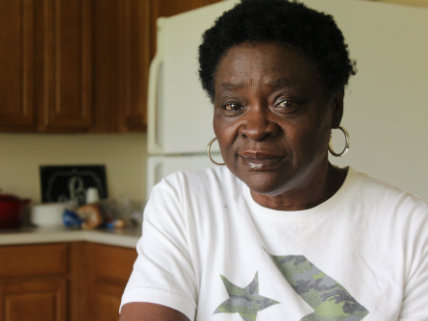 Betty Jean Williams Tucker, 62 and a grandmother of 12, was hosting a barbecue for family and friends in the front yard of her home in Canton, Mississippi one evening in 2014 when she says an unmarked Madison County Sheriff's Department (MCSD) cruiser rolled up.
Two plainclothes deputies got out of the car and, without a warrant or consent, walked onto Tucker's yard and began searching all of her guests, including rummaging through pockets. When they failed to find anything, the two deputies got back into their car and drove off without an explanation.
It was an infuriating but regular occurrence for black residents of Madison County like Tucker, who have been subjected to illegal and discriminatory policing for more than a decade, according to a civil rights lawsuit filed Monday by the American Civil Liberties Union.
Tucker, 62, is now one of several named plaintiffs in a suit filed against Madison County and its sheriff's department by the ACLU in federal court on Monday. The lawsuit alleges that Madison County law enforcement have been using unconstitutional checkpoints, warrantless searches, and excessive force as part of a comprehensive program that illegally targets black residents, violating their Fourth and Fourteenth Amendment rights.
Specifically, the lawsuit accuses the MCSD of setting up illegal roadblocks and pedestrian "checkpoints" outside of majority-black housing complexes, conducting unlawful searches of people's homes, and in one case beating a physically disabled man in front of his family to coerce a witness statement from him.
"Taken together," the ACLU lawsuit says, "these policing methods have effectively placed the black community of Madison County under a permanent state of siege."
The Madison County Sheriff's Department did not immediately return a request for comment for this article.
Although Madison County is only 38 percent black, 81 percent of roadblock arrests between May and September of 2016 were black, according to the ACLU. Another plaintiff in the lawsuit, Nicholas Singleton, says he has been stopped at MCSD roadblocks at least 20 times in the past year. When deputies stop drivers and pedestrians at roadblocks, the ACLU says, they typically check the person's identification to see if they have outstanding court fines or fees, which also make the roadblocks a revenue-collection scheme for the county.
"Not only do they ask the driver of the car for his ID and insurance but also all the passengers, particularly if they're all black men," says Mississippi ACLU attorney Joshua Tom. "They will check every one of their IDs, run their names, and also do that same IDing and checking for pedestrians."
The roadblocks, the lawsuit says, "are much more than an inconvenience" for black residents of Madison County. "Passing through these unconstitutionally intrusive roadblocks is fraught with the potential for harassment, intimidation, demeaning searches, baseless citations, and possibly even arrest and subsequent incarceration."
Under the precedent set in the 2000 Supreme Court case City of Indianapolis v. Edmond, police checkpoints are only constitutional when they serve a special need, such as border security or stopping drunk drivers, not general crime control.
Yet in one public notice of upcoming roadblocks cited by the ACLU, the MCSD says the purpose "will be to check for Driver's licenses, warrants and whatever else we encounter."
The ACLU lawsuit is only the latest in a string of complaints against the Madison County Sheriff's Department over the past two decades.
Last year, a former MCSD deputy, Robert Gibson, filed a federal civil rights lawsuit against the sheriff's department, alleging he was wrongly fired after complaining about racial discrimination against black employees at the MCSD and the black communities the department polices. Gibson, a Marine Corps veteran, says he was repeatedly passed over for promotions he was qualified for, and that he saw MCSD deputies brutalize a handcuffed suspect on one occasion.
Included as an exhibit in Gibson's lawsuit is a letter from the Equal Employment Opportunity Commission (EEOC), a federal agency that investigates workplace discrimination, finding that there was "reasonable cause to believe [Gibson] was discriminated against in violation of Title VII of the 1964 Civil Rights Act."
Citizens complained to the Madison County Board of Supervisors in 2004, 2006, and 2007 about the roadblocks and discriminatory policing.
"The Madison County Sheriff's Department has a longstanding, potentially decades-long policy and practice of systematically targeting black people for unreasonable searches and seizures," says Tom. "It's illegal and it needs to stop."