The State Wanted to Treat Her Like a 'Handmaid.' She Fought Back
Tamara Loertscher gave birth to a healthy baby boy in 2015. Then she challenged the Wisconsin law that nearly kept them apart.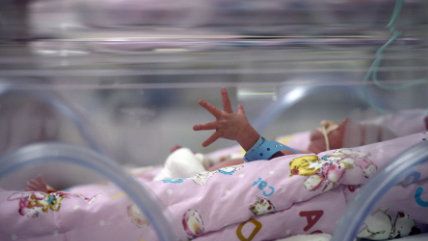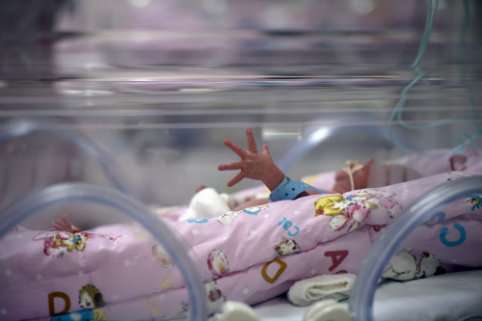 When Tamara Loertscher was a teenager, radiation treatment left her unable to produce thyroid hormones, subjecting her to depressive spells and fatigue when she wasn't on medication. The condition also made it difficult to impossible for her to become pregnant—or so she thought. But at age 29, Loertscher found herself facing a positive pregnancy test.
The timing was bad, to put it mildly. Earlier that year—2014—Loertscher lost her job, leaving her unable to afford the thyroid medication. Depression kicked in, and then a methamphetamine habit. She began using meth two or three times a week to "help her get out of bed in the morning," as she put it. She also sometimes drank alcohol or smoked marijuana.
After the first pregnancy test, in early July, Loertscher "cut back" on the drugs but didn't quit entirely, according to what she told hospital staff. Loertscher would later contend that she didn't believe the first pregnancy test was accurate. But when a second test, taken on July 30, showed the same result, Loertscher "believed for the first time that she might actually be pregnant." Two days later, she showed up at the Eau Claire, Wisconsin, Mayo Clinic Hospital in pursuit of an official pregnancy confirmation, thyroid medication, and "psychiatric care," according to court documents. She also wanted confirmation from a doctor that the baby would be OK despite her hypothyroidism and prior drug use.
A urine test revealed that she was indeed pregnant—about 14 weeks—and also showed "unconfirmed positives" for marijuana and meth. Loertscher told the emergency room doctor that she wanted to stop the drugs, take care of herself, and have a healthy baby. She willingly signed herself into the Mayo Clinic Behavioral Health Unit that evening, and the next morning met with a psychiatrist, to whom she stressed that the drug use had been before she knew she was pregnant.
The good news was that the fetus seemed fine, a Mayo obstetrician confirmed. Nonetheless, two days later, while Loertscher was still (voluntarily) hospitalized, a Mayo clinic social worker contacted local authorities to report that a pregnant woman had tested positive for drugs.
What followed was a scene right out of The Handmaid's Tale, the 1985 Margaret Atwood novel turned 2017 Hulu series in which women are broadly discriminated against based on sex, with a certain subset relegated to a birther caste (the handmaids). In one scene from the new series, handmaid Ofglen (Alexis Bledel) is brought before a court on charges of being a "gender traitor," or lesbian—charges the state has already determined apply, and to which she can proffer no defense.
As in the show, Loertscher was only summoned before government adjudicators once they had already decided she was guilty and knew how they planned to deal with it. Her request for legal representation was ignored, even while her fetus had been appointed its own attorney.
Eventually Loertscher would wind up in solitary confinement, denied prenatal care, all in the name of protecting her unborn. But this tale has a happy ending: last week, the U.S. District Court for the Western District of Wisconsin sided with Loertscher.
"Cocaine Moms" and Kangaroo Courts
Loertscher's plight was enabled by Wisconsin's Unborn Child Protection Act, passed in 1997 in the midst of "cocaine mom" panic. An amendment to the state Children's Code, it stipulated that "unborn children" at any gestational age could qualify as a child in need of state protection if the "expectant mother's habitual lack of self-control in the use of alcohol beverages, controlled substances, or controlled substance analogs, exhibited to a severe degree, [poses] a substantial risk" of harm to the embryo or fetus.
"Anti-abortion organizations used popular but scientifically disproven myths about pregnant women and cocaine use to lobby for a law that purported to protect 'unborn children,'" said Lynn Paltrow, executive director of the National Association for Pregnant Women, "but in fact subverted maternal and child health and deprived adult women who became pregnant of fundamental constitutional rights."
After the Mayo Hospital social worker reached out to the Taylor County Department of Human Services (TCDHS), Loertscher's case was assigned to social worker Julie Clarkson. The person who initially "screened" the report "did not contact a physician or review Loertscher's medical records when she decided that the County would investigate and assess the report," the district court decision notes. Clarkson reached out to the hospital worker who had initially called and, by a little after noon, she and the TCDHS deputy director had signed off on a recommendation that Loertscher be placed in an inpatient substance-abuse treatment facility for an unspecified amount of time.
That afternoon, Clarkson informed Loertscher via phone of the county's investigation and told her that should she decline the inpatient treatment, she may be placed in state custody. "Around 40 minutes later, County personnel had completed a temporary physical custody request," court documents state. At no point had anyone from the county yet spoken with Loertscher in person. By later that afternoon, a guardian ad litem had been appointed to act on behalf of Loertscher's fetus.
When Loertscher met with the hospital social worker again, she found her "unhelpful" and "judgmental" and told staff she was ready to leave. A nursing manager informed her that wasn't possible because the county had placed a hold on her.
The next day, the social worker "told Loertscher that there was a judge on the phone for her," according to the district court.
In fact, Loertscher was about to participate, by phone, in her temporary physical custody hearing. The state maintains that [hospital staff] told Loertscher about the hearing earlier that morning; Loertscher maintains that she did not understand what was going on. Loertscher stated that she did not wish to speak without legal representation and that she did not want to take part in the proceeding until she had a lawyer. The Loertscher left the room.
The Taylor County court commissioner decided that this meant Loertscher had waived her appearance. The commissioner, TCDHS counsel, the fetus lawyer, and other TCDHS staff stayed on the phone and finished the hearing, with testimony from Jennifer Bantz, the hospital obstetrician who had been seeing Loertscher. Bantz later testified that she had not understand the purpose of the call. When it was concluded, the commissioner entered an order of temporary physical custody against Loertscher, requiring her to stay at the Mayo Hospital until she was transferred to an inpatient drug-treatment facility, which she would remain in "until the program directors deem it appropriate to release her."
Catch-Tuberculosis Test
In order to enter the inpatient treatment facility, Loertscher was required to prove that she didn't have tuberculosis. She agreed to submit to a test that didn't require drawing blood, but not to the proposed blood test. It was a no-go.
In the meantime, however, Loertscher persuaded hospital doctors to sign off on her discharge, telling them she wanted to stay off drugs and on her thyroid meds, get a prescription for prenatal vitamins, and choose her own healthcare providers. Loertscher's doctor said that she was not an imminent danger to herself or others and "that just because she has used [drugs] in the past does not mean she will again."
The government responded by requesting that Loertscher be found in contempt for failing to submit to the tuberculosis test. A hearing on the contempt charge was scheduled for August 25, about three weeks later. But just two days after that, the county filed another motion, this time seeking "to take expectant mother into immediate custody." It was granted that day, with the court citing both Loertscher's "habitual use of controlled substances" and failure to take the tuberculosis test.
At the time, Loertscher was living with her grandparents. When police showed up that night to arrest her, the grandfather somehow talked him out of it. The county agreed she could stay at her grandparents' home until the hearing, which was postponed to September 4.
During the hearing, Loertscher testified that she could stay clean and healthy without full-time hospitalization and explained why—while she did indeed want to stay off drugs—she was reticent to accept treatment overseen by the state. "I feel like I went to the hospital and sought treatment and then they violated my rights and all these people got this information that I feel they shouldn't have gotten," said Loertscher. "And I feel my whole stay there was made worse."
Loertscher was found in contempt and ordered to cooperate with the inpatient treatment plan or serve 30 days in jail. She opted for jail.
"Protecting" the Unborn
Once in jail, Loertscher was told she would have to submit to another pregnancy test if she wanted access to an obstetrician or other specialized prenatal care—nevermind the fact that she was visibly pregnant at this point, or that the whole reason she was in jail in the first place was related to her pregnancy. She refused to take the test.
A few weeks in, after complaining to the regular jail doctor about cramping, she was once again ordered to take a pregnancy test if she wanted to see an obstetrician. When she again refused to submit to the test, Loertscher was placed in solitary confinement.
After this, Loertscher got in touch with a public defender. With the lawyer's help, she was able to get the contempt charge purged and resolve the child-abuse petition against her so long as she submitted to the state's substance-abuse assessment, submit to weekly drug testing (at her own expense) and turn the results over to TCDHS. She complied.
All further drug tests were negative.
The county still found Loertscher guilty of "child maltreatment," but the ruling was later withdrawn.
Not long thereafter, Loertscher gave birth to a healthy baby who, now 2, has grown into a healthy toddler. She also filed a lawsuit challenging Wisconsin's unborn-child protection law in federal court.
Void for Vagueness
In its April 28 decision, the U.S. District Court for the Western District of Wisconsin concluded that Wisconsin's "cocaine mom" law was void for vagueness and unconstitutional. "At the heart of the Act are two concepts: 'habitual lack of self-control' and 'substantial risk to the physical health of the unborn child,'" the ruling states. However, "neither of these concepts is amenable to reasonably precise interpretation. Thus, the Act affords neither fair warning as to the conduct it prohibits nor reasonably precise standards for its enforcement."
Lawmakers were warned of this going in. The Unborn Child Protection Act was passed in response to another court case, in which the Wisconsin Supreme Court held that juvenile courts were not authorized to exercise jurisdiction over adult pregnant women in connection with "child in need of protection or services" petitions. Soon thereafter, the state legislature amended the law to allow it.
As the legislature considered the change, the Wisconsin Legislative Council said that its constitutionality was "highly doubtful." Meanwhile, the state's Division of Children and Family Services, Division of Public Health substance-abuse bureau, and the City of Milwaukee Health Department all opposed it on the grounds that it would discourage pregnant women who had or were using drugs from seeking addiction treatment and prenatal care. "A criminal justice approach to maternal and child health is not the best alternative," and "readily available drug and alcohol treatment for expectant mothers would be preferable to threatening mothers with incarceration and loss of parental rights," the children's department warned.
In the present case, the court noted that "both sides have adduced voluminous and, at times, conflicting evidence regarding the specific risks associated with alcohol and other substance abuse while pregnant and the efficacy of state-mandated treatment programs. But one thing remains undisputed: the experts cannot ascertain with any degree of medical certainty the precise levels of alcohol and controlled substance use that trigger a risk of serious danger to the unborn child."
The court pointed out that Wisconsin lawmakers could have simply forbidden "the use of alcohol beverages, controlled substances, or controlled substance analogs…" by pregnant women, but instead implicated "expectant mother's habitual lack of self-control in the use of alcohol beverages," etc. Why is this troubling to the judges?
This introduces the possibility that the Act could be enforced against any drug- or alcohol-dependent woman who was pregnant, because her history of substance abuse could be invoked to demonstrate the requisite lack of self-control, regardless of whether she actually used controlled substances while pregnant.

This point proved critical in Loertscher's case, because she professed no intent to continue her drug and alcohol use once her pregnancy was confirmed. Her purported habitual lack of self-control was based on her history of modest drug and alcohol use, which she self-reported while seeking medical care. … Loertscher, despite her good intentions, was somehow suspected of habitually lacking self-control and she was involuntarily detained for the good of her fetus.
"The point," the court concluded, "is that the conduct covered by the [Unborn Child Protection] Act is fundamentally unclear." And so, too, the concept of risk.
"How much risk constitutes a substantial risk to the health of the child? The State has no meaningful answer," the ruling states. Nor can "current medical science" say "what level of drug or alcohol use will pose a substantial risk of serious damage to an unborn child." In light of this, some doctors recommend complete abstinence from not just hard drugs but also alcohol and other substances, like nicotine, throughout a person's pregnancy. Thus, under Wisconsin law,
… an expectant mother who does not maintain complete sobriety simply cannot know when she would be subject to the Act. There is no way for her to know what type of behavior demonstrates a habitual lack of self-control to a severe degree in the eye of the enforcer, much less whether behavior prior to pregnancy may end up being sufficient to trigger the Act's control over her once she conceives.
Again, it sounds like something out of The Handmaid's Tale. But for those pushing the Hulu series as #Allegory for the dangers of Donald Trump (a theory that fails for far too many reasons to get into here), it might be wise to remember that when Wisconsin passed the act that ensnared Loertscher, its House was controlled by Republicans and its Senate controlled by Democrats. Infringing on adults' civil liberties and bodily autonomy in the name of (current or future) children has long been a bipartisan affair, and still is. The most plausible route to anything like a Handmaid's Tale scenario in the near future isn't an ascendancy of Bible-thumping, gay-fearing, traditional-gender-role worshiping zealots protected by a far-right militia but the piecemeal, gradual erosion of the rights of pregnant women (and then anyone who could potentially or desirably become pregnant) done in the name of children's health and safety. It's not the threat of America falling to fundamentalist Christian patriarchy but the Cult of Good Motherhood, to which no political ideology can claim a monopoly on membership.
For the record, the risk posed to developing fetuses by various criminalized drugs is much less "than once thought," says Aleksandra Zgierska, a Wisconsin family medicine and addiction specialist. "The best ways to protect babies and grow healthy children is to provide confidential, non-threatening health care that keeps mothers engaged in treatment, if they need it, and mothers and babies together."