On the 'Invasion' of 'Libertarianism,' Pope Francis' Ignorance Is Showing
We're not all the egoistic Ayn Rand acolytes the Catholic pontiff imagines.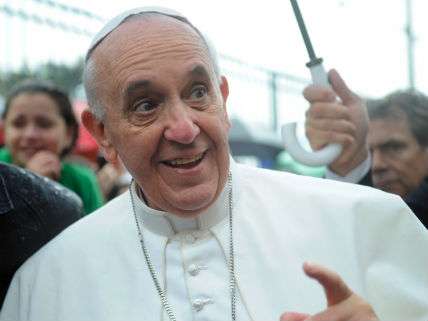 "Pope Francis had harsh words to describe libertarians Friday," Breitbart reports. That's OK. I'm a Catholic libertarian, and I've had some harsh words to describe Pope Francis.
My main critique, which I published here at Reason on the eve of his 2015 visit to the United States, was that the pontiff's ignorance of basic economics has led him to a bad conclusion about which public policies are best able to reduce the crushing yoke of poverty in the world. I went on to encourage him to consider that, as a matter of empirical fact, markets are the single greatest engine for growth and enrichment that humanity has yet stumbled upon.
I don't doubt for a second that Pope Francis cares deeply about the least of his brothers and sisters. But I deny that his chosen prescriptions would do anything but make the problem worse.
This is not a bad time to be reminded that popes aren't infallible, according to Catholic doctrine—instead, they are possessed of the ability to deliver infallible teachings on matters of faith and morals. As I pointed out in my piece, "In practice, such 'definitive acts,' in which a pope makes clear he's teaching 'from the chair' of Jesus, are almost vanishingly rare." Arguably, though, the pope's remarks today to the Pontifical Academy of Social Sciences do pertain to faith and morals. He seems to be arguing that an outlook that places the individual above "the common good" is morally suspect.
As with his comments about capitalism, then, the problem is not so much that he's speaking to issues that go beyond the scope of his office; the problem is his speaking to matters on which he is ill-informed. In this case, his statements betray a shallowness in his understanding of the philosophy he's impugning. If he took the time to really engage with our ideas, he might be surprised by what he learned.
He might, for instance, be taken aback to discover that many libertarians hold beliefs that transcend an Ayn Randian glorification of selfishness (and that Ayn Rand rejected us, too, by the way). Or that what Pope Francis calls an "antisocial" paradigm in which "all relationships that create ties must be eliminated" (Breitbart's words) is better known by another name: the liberty movement, a cooperative and sometimes even rather social endeavor among people who cherish peaceful, voluntary human interactions. Or that lots of us are deeply concerned with the tangible outcomes that policies have on vulnerable communities, and that libertarians' support for capitalism is very often rooted in its ability to make the world a better place. Or that some of us are even—hold on to your zucchetto—followers of Christ.
Most of all, he would likely be startled to find that, far from thinking "only the individual decides what is good and what is evil," few libertarians are moral relativists. (Except the Objectivists, of course. Or am I getting that wrong?) Speaking as a devotee of St. John Paul II, one of the great articulators of the importance of accepting Truth as such, this one is actually personal.
It's hard not to wonder whether Pope Francis knows any libertarians. In the event he's interested in discussing the ideas of free minds and free markets with someone who ascribes to them, I'd be happy to make myself available.