This Video of Cops Arresting an Autistic 10-Year-Old Is the Case Against Police in Schools
"I don't understand."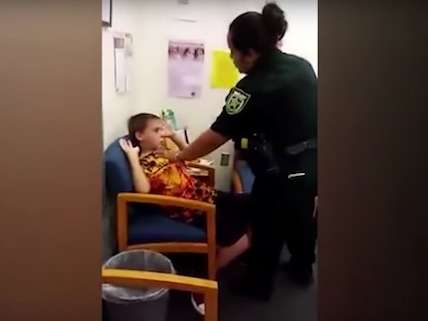 A 10-year-old boy who suffers from autism told the school resource officer, "I don't want to be touched." He was handcuffed anyway, taken to jail, and forced to spend a night in a juvenile detention facility.
It happened at Okeechobee Achievement Academy in Florida, where young John Benjamin "Benji" Haygood was accused of disrupting class and striking a special education teacher as she tried to restrain him. That incident took place last November, and led to the teacher filing charges against Benji.
Police issues a warrant for Benji's arrest, but according to The Washington Post, no action was taken at the time. Then, last week, Benji and his mother returned to the school for standardize testing. A school resource officer arrested him as he screamed, "I don't understand!" Benji's mother asked to accompany him to the jail, but was refused. She did manage to film the arrest, however.
The school district denied that it had asked Benji to come to the school in order to arrest him, but offered no additional comment on the case.
Benji, who was diagnosed with autism two years ago, clearly suffers from disciplinary issues. Hitting teachers and other classmates isn't okay. But the public school system has an obligation to socialize young people and teach them proper behavior. (If it does not have this obligation, then what's the point of compulsory public schooling in the first place?) When school officials ship a kid off to jail, they are failing to do their jobs, and making life miserable for the kid.
Are our nation's 10-year-olds so dangerous, such criminal masterminds, that they need to be handcuffed and detained over night? Watching the video, you might think Benji was a murderer, or prodigious bank robber. No, he's an autistic kid who had a bad day. But it's illegal to have a bad day at school, when the school outsources disciplinary enforcement to the local police.
For more on this subject, read "Why Are Cops Putting Kids in Cuffs?" from the March issue of Reason.