Scientists' March on Washington: New at Reason
At risk of becoming just another special interest?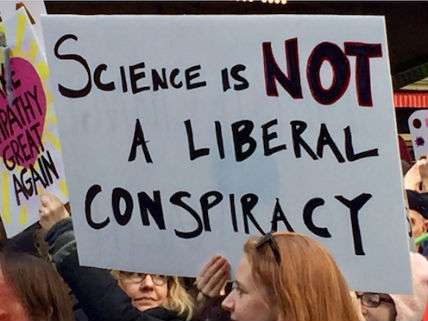 In the flush of excitement after the post-inaugural Women's March on Washington, someone in a Reddit conversation suggested, "There needs to be a Scientists' March on Washington." Sensing that a march on Washington might sound too aggressively partisan, the organizers have now renamed the event the March for Science. That march will take place tomorrow, on Earth Day, which the coordinators somehow figured would be the perfect nonpartisan date on which to muster tens of thousands of scientists and their comrades on the National Mall.
The event's mission statement proclaims that the marchers "unite as a diverse, nonpartisan group to call for science that upholds the common good and for political leaders and policy makers to enact evidence based policies in the public interest." Setting aside the fact that the march was conceived in the immediate wake of the decidedly partisan and specifically anti-Trump Women's March on Washington, how credible are these claims to non-partisanship?