Bill O'Reilly: The Kennedy Conspiracy Years
Friday A/V Club: Young Bill O'Reilly on the trail of the Umbrella Man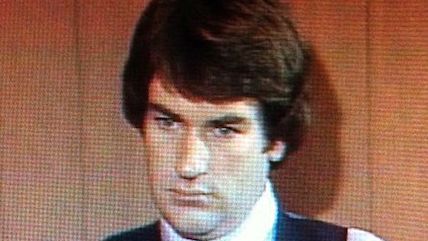 As we await the next stage of Bill O'Reilly's career—RT host? FCC commissioner? down-on-his-luck high-school basketball coach?—let's set the Wayback Machine for 1979 and check out one of the fallen Fox star's earlier incarnations. Before he was the Joe Pyne of cable news, before he was the tantrum-prone anchor of a syndicated tabloid show, O'Reilly was a twentysomething baby-boomer with a moptop of '70s hair and a yen to do investigative journalism. In 1979, when JFK assassinology was arguably at its peak, he tackled the death of John F. Kennedy in a report for a TV station in Connecticut. In the clip below, O'Reilly focuses on one of the odder byways of the JFK theories: the so-called "umbrella man" who raised a parasol shortly before the president was shot.
After the station re-aired that in 2013, an anchor there posted an item promoting it online. "Look for our Carter-era disco inspired logo, the size of the tape cassette recorder Bill carried with him, his powder blue bell bottom pants, and the copious chest hair he showed off to the viewers," he advised, adding: "Hey, it was the '70s." As for the actual theory explored in the report, he described it as "fascinating yet somewhat bizarre."
There is, for the record, a non-conspiratorial explanation for the umbrella man; Errol Morris covers that here. O'Reilly returned to the JFK assassination during his tenure on Inside Edition; you can watch that happen here. More recently, O'Reilly wrote—or at least put his name on—a book called Killing Kennedy; I haven't read it, but a text search at Amazon reveals that the word "umbrella" doesn't appear in it.
(For past editions of the Friday A/V Club, go here. And I suppose I should take this opportunity to promote my book on the history of American conspiracy theories, right? Check that out here.)