Are Trump Fans a Protected Class? Maryland Cops Charge Teens Who Burned Trump Sign With a Hate Crime
Cops say the 19-year-old women violated a state law against harassment based on "race, color, religious beliefs, sexual orientation, or national origin."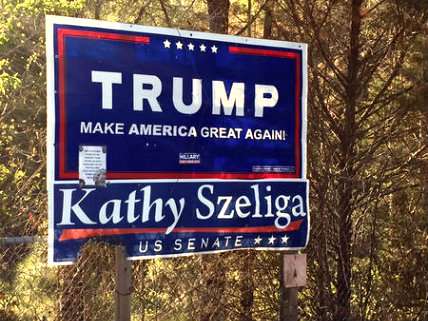 In the ever-expanding category of things considered "hate crimes" we can now place political disagreement.
Last week, two young women in Maryland were arrested after allegedly setting fire to a pro-Trump sign hanging near a shopping center. The women—D'Asia Perry, 19, and Joy Shuford, also 19—acted on "political differences with the billboard postings" and were charged with second-degree arson and several counts of malicious destruction of property, according to the state Fire Marshal's Office. They were also charged for violating Maryland's statute against crimes committed "because of another's race, color, religious beliefs, sexual orientation, or national origin."
By committing arson "with discrimination or malice toward a particular group, or someone's belief," Perry and Shuford earned the hate-crime designation, according to Deputy Chief Fire Marshal Caryn L. McMahon. In charging documents from Princess Anne police, officers wrote that "the intentional burning of these political signs, along with the beliefs, religious views and race of this political affiliation, directly coincides with the victim."
The arson charge makes sense—the Trump sign was private property (it belonged to Robert Wink, who owns a sporting goods store in the shopping strip) and the blaze did get a bit out of control, according to firefighters. Vegetarion nearby caught on fire, causing an estimated $800 in damage, they say.
But a hate crime? That's where this story gets sticky. The government is effectively saying that having any political motive for doing something is as deplorable as doing it out of racism, misogyny, or hatred of LGBT people.
For a number of reasons, libertarians (myself included) tend to oppose categorically harsher treatment of offenses motivated on "hate," which has always been a slippery topic to get a legal hold on. But at least the typical criteria for labeling something a hate crime are easy enough to understand—these are offenses motivated by animosity toward a particular identity category (like race, ethnicity, religion, gender, or sexual orientation) that we consider either innate/immutable or (in the case of religion) at least sacrosanct.
What would it mean to add "political persuasion" to these categories? For one thing, any political disagreement that turned nasty could be classified as a hate crime, leaving the offender(s) open to much more severe penalties than they would face for a solo charge of something like assault or harassment. Are there people out there who really think this is desirable, making crimes of political passion especially heinous?
And of course the possibilities for authoritarian abuse are tremendous. Political protesters arrested for minor offenses could have hate-crime enhancements thrown at them. Any act of civil disobedience would immediately become a hate crime.
Several states have already moved to make cops a class protected by hate-crime statutes. In Louisiana, for instance, resisting arrest could now be considered a hate crime, as C.J. Ciaramella noted here in January.
It's unlikely the people who first pushed for hate-crime laws would be happy with where they've headed. But as always, when you give police and prosecutors more power—even under the guise of good intentions—it's always the people who lose.