Navy, Marine Corps Prohibit Sending Nudes without Consent; IMF Chief Says Members Support Free, Fair Trade; Tucker Carlson Replacing Bill O'Reilly: P.M. Links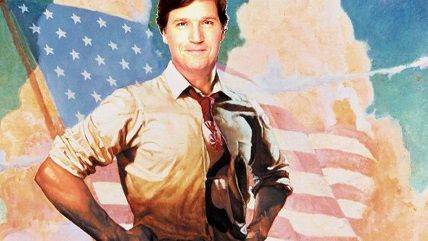 (H.A. Bragg/Reason, based on the poster for Lucasfilm's "Tucker: The Man and his Dream")
H.A. Bragg

The White House denies President Trump misled anyone when he said the aircraft carrier Carl Vinson was headed for the Sea of Japan while it was on its way to Australia because it will be going there eventually.

The Navy and the Marine Corps have officially prohibited service members from sharing nudes without the consent of the subject.
Rep. Jason Chaffetz (R-Utah) says he won't run for re-election in 2018.
The head of the International Monetary Fund says none of its members oppose free and fair trade.
Convicted murder and former New England Patriot Aaron Hernandez was found hanging in his jail cell.
Bill O'Reilly is out at Fox News. He will be replaced by Tucker Carlson.
Researchers found a new "super-Earth," LHS 1140b, just 39 light years away from Earth.