Welcoming Immigrants Means Higher Wages
'Immigration represents an opportunity rather than a threat to our economy and to American workers.'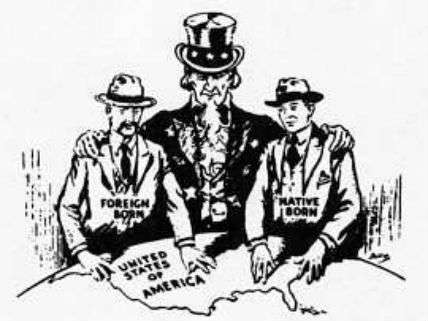 "The benefits that immigration brings to society far outweigh their costs," declares an open letter to congressional leaders and President Donald Trump. The letter, published on Wednesday and signed by nearly 1,500 economists—including six Nobel Prize winners—notes that immigrant entrepreneurs start new businesses that hire lots of Americans; that immigrants are far more likely to work in innovative, job-creating fields such as science, technology, and engineering; and that they bring diverse skill sets that keep our workforce flexible, help companies grow, and increase the productivity of American workers. A new study parsing employment data between 1991 and 2008 confirms that immigrants significantly boost both the productivity and the wages of workers.
The paper, published this week in the journal Economic Geography, compares how 160 U.S. metropolitan areas are faring according to the statistics compiled by the Census Bureau's Longitudinal Employer-Household Dynamics program. (This dataset has information on more than 30 million workers at 1.2 million businesses, including their sex, age, race, wages, length of employment, education, and country of birth.) The authors, economic geographers Abigail Cooke of SUNY-Buffalo and Tom Kemeny of the University of Southampton, note that "inclusive institutions" encourage trust, lowering costs and fostering cooperation. To get a handle on how inclusive various American cities are with respect to immigrants, the two researchers devise two indicators. The first measures how widespread social capital is in each city, and the second accounts for pro- and anti-immigrant ordinances adopted by local governments.
Social capital consists of the connections of trust between individuals and entities that can be economically valuable. The authors constructed their indicator for social capital by assessing data from the County Business Patterns on the number of social, political, advocacy, business, professional, and labor associations per 10,000 residents in each metropolitan area. They also take into account the number of gathering places, such as specialty food shops, restaurants, cafés, bars, hair salons, corner stores, fitness centers, sports clubs, and bowling alleys.
For a stark contrast between places with inclusive institutions and those without, the researchers focus their analysis on the cities that scored in the top and bottom third of their social capital indicator. Municipalities with the highest social capital included Appleton, Wisconsin; Des Moines, Iowa; and Trenton, New Jersey. Those with the lowest include McAllen, Texas; Fayetteville, North Carolina; and San Bernardino, California.
Next they develop an inclusiveness indicator based on pro- and anti-immigration ordinances enacted by various metropolitan areas. They note that most of the ordinances specifically focus on undocumented immigrants, but they argue that their adoption indicates residents' attitudes toward immigration more generally. Some cities pass English-only rules or try to punish employers who hire undocumented immigrants; others pass sanctuary laws. In their analysis, they include the 160 urban areas that alternatively crossed thresholds in which at least 50 percent of their municipalities and counties had adopted either pro- or anti-immigrant ordinances. Metropolitan regions with more mixed policies were excluded.
Among the cities scoring highest on the pro-immigrant indicator were Salem, Oregon; Austin, Texas; and Fresno, California. Anti-immigrant areas included Charlotte, North Carolina; Green Bay, Wisconsin; and Harrisonburg, Virginia.
On top of all that, the researchers used the Census data to determine what percentage of people in each urban area is native and foreign-born. They also follow people's work and wage histories.
The results? "What we found was remarkable. In cities that are unwelcoming to immigrants, as diversity rises, people's wages either don't change, or they go up by only a small amount," said Cooke in a statement released by SUNY-Buffalo. "In cities that are welcoming to immigrants, as diversity goes up, people's wages go up, and by a lot."
If the intent of anti-immigrant laws is to boost native-born wages, it does not work. To the contrary, the researchers find that "the average worker in a metropolitan context featuring pro-immigrant laws receives a 36 percent wage increase." In addition, scoring in the top third of cities on the social capital inclusiveness indicator correlates with a 21 percent increase in the average worker's wage.
What appears to be happening is that in urban areas that welcome them, immigrants' economic and social diversity helps increase overall productivity, which in turn boosts average wages. How? Among other things, immigrants bring different skill sets, higher levels of ambition, and a greater likelihood of adopting more outside-the-box approaches to solving problems.
This new study strengthens the open letter's argument that "immigration represents an opportunity rather than a threat to our economy and to American workers." Hindering immigrants makes our country poorer than it would otherwise be.