Should the Feds 'Unmask' Anonymous Political Speech?
Unmasking anonymous Twitter users who discuss politics is like demanding "dark money" donors disclose their identities for supporting political speech.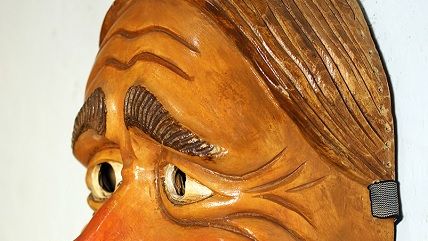 Last week the Department of Homeland Security's Customs and Border Protection division demanded that Twitter reveal the identity of the person behind an account that has been criticizing the Trump administration. The agency had no authority to issue such a demand, and quickly retracted it. But you could not have scripted a better incident to confirm the worst fears of Trump administration critics about its neo-fascist tendencies.
As a Washington Post story last week noted, Twitter's "primary objection, the company said, is that allowing the government to unmask Twitter critics violates the Constitution's First Amendment right to free speech… That right, the company said, is particularly important when discussing political speech. 'First Amendment interests are at their zenith when, as here, the speech at issue touches on matters of public political life,' [Twitter's court] filing said."
Twitter fretted that the demand "may reflect the very sort of official retaliation that can result from speech that criticizes government officials and agencies."
Civil libertarians were—quite properly—outraged.
Democratic Sen. Ron Wyden (Ore.) called the DHS demand a "witch hunt." In a letter to CPB, he pronounced himself "gravely alarmed" by an apparent attempt to "squelch the exercise of First Amendment rights to comment on U.S. policy, and to make those comments anonymously."
The case was "about the broader right to speak anonymously on the internet," said Esha Bhandari, a staff lawyer with the ACLU. In a subsequent statement, she told The Washington Post, "Speaking anonymously about issues of the day is a longstanding American tradition, dating back to when the framers of the Constitution wrote under pseudonyms. The anonymity that the First Amendment guarantees is often most essential when people criticize the government, and this free speech right is as important today as ever."
Alex Howard, deputy director of the Sunlight Foundation, praised Twitter's rebuff of the CBP demand: "The choices they made to stand up for their users set important precedents for other companies now and into the future."
This is all very good to hear, especially in light of the hand-wringing over "dark money" in political campaigns. Dark money consists of donations to groups such as Americans for Prosperity, the League of Conservation Voters, and the Planned Parenthood Action Fund. Those politically oriented nonprofit groups can use the money for independent expenditures urging the public to vote for or against a political candidate.
Dark-money expenditures have increased in recent years, but they still represent only a tiny fraction of total campaign spending. The vast majority of the money—more than 90 percent—gets spent by candidates, political parties, and groups formed to support specific candidates.
Nevertheless, "dark money" sounds despicable. It summons images of robber barons twirling their mustaches as they plot world domination—even though it is just as likely to be spent by NARAL Pro-Choice America or the Environmental Defense Action Fund.
Because it sounds awful, it has elicited calls for "disclosure." Legislation has been introduced in Congress and in more than half the states that would require such incorporated nonprofits to disclose their donors. One New York proposal would require nonprofits to disclose the identities of anyone who gave them more than $1,000 if they express any opinion about any position taken on any issue by any candidate, legislature, or executive agency. If Friends of the Earth says State Sen. Smith is wrong to support fracking, the group would have to reveal the identity of all its donors, submit internal communications to the government for review, and more.
And guess who supports such disclosure?
Right: Ron Wyden. The senator says he was proud to sponsor legislation that "would require all entities that engage in election-related activity to report their significant donors."
And the Sunlight Foundation, which wants Congress to pass the DISCLOSE Act, which it says would require "secretive nonprofits" to reveal the names of significant donors, unless those donors specify that their money can't be used for political purposes.
To its credit, the ACLU has criticized dark-money disclosure laws, at least those like the one in New York, as overly broad measures that "could chill constitutionally protected speech."
Campaign-finance reformers like to pretend their concern has to do with money, especially corporate money—not political speech. But it's impossible to separate the two. When NARAL Pro-Choice America blasts a Republican for his stance on abortion rights, it spends money to do so. The money isn't speech. But it makes the speech possible, and you can't limit the expenditure without limiting the speech too—any more than you could cap the amount of money spent on abortions without limiting abortion rights.
Indeed, that's precisely the question that lay at the heart of the Supreme Court's widely reviled, and even more widely misunderstood, ruling in Citizens United: whether the government could stop a non-profit corporation from publishing criticism of a politician in the weeks leading into an election.
Twitter is a for-profit corporation that recently published criticism of a politician by the name of Donald Trump. Let's hope those who were horrified by the administration's demand that the user be unmasked think long and hard about whether they want the government unmasking other critics, too.
This column originally appeared at the Richmond Times-Dispatch.