Lousy News: Red Eye, One of Cable TV's Best Shows, Gets Canceled
Groundbreaking Fox program took the piss out of politics and gave space to libertarian deplorables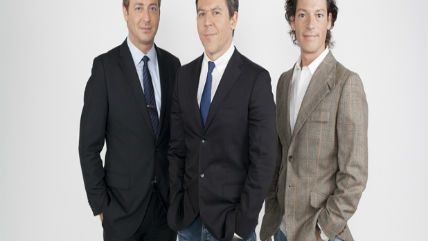 On Monday afternoon, without any real prior warning, the on-air talent and behind-the-scenes weirdos of Red Eye, the past decade's most oddly compelling cable news program, were told by Fox management that their show would be euthanized this Friday. Thus ends not just the most voluminously friendly venue for Reason staffers over that time period (including at 3 a.m. ET tonight, when I will be on), but also the terra firma in a broadcast micro-climate friendly to those many of us who can't fit neatly into the square (or round) pegs of political media. It's a sad day, y'all.
salute to @RedEyeFNC fans who inspired us to do some seriously messed up shit. it was & will remain the strangest show ever to appear on tv.

— GregGutfeld (@greggutfeld) April 3, 2017
The show was co-founded and anchored by Greg Gutfeld, a sort of impish hell-spawn of Andrew Breitbart and Johnny Rotten, back in 2007 (watch Reason TV's 2012 interview with Gutfeld here). With co-conspirators Bill Andrew Schulz (*see bottom of post), a spittle-flecked degenerate metrosexual, and Andy Levy, a semi-taciturn libertarian Army vet, the show was both a lifeline for political insomniacs and a Dadaist laboratory for defacing the boundaries of cable news. Examples of such abound in the Twitter timeline of Gutfeld, who continues to co-anchor daily on The Five as well as hosting his own weekly Fox News Channel show. As Nick Gillespie wrote upon the introduction of the latter:
For my money, Greg Gutfeld is the most consistently funny and insightful conservative/libertarian critic of the news media and broadly defined culture industry. Certainly, he is the only person on the planet who admires equally both former Rep. Allen West (R-Fla.) and post-punk standouts The Melvins (indeed, band founder Buzz Osbourne is a regular guest on various Gutfeld shows).

At his best (which is to say, basically every day he shows up for work), Gutfeld casts a hugely wide net of references and knowledge about politics and culture and, most important, is absolutely honest about where he's coming from and why.

To be honest, I wish he were more consistently libertarian but what are you gonna do, really?
Gutfeld was replaced two years back by the genial comedian Tom Shillue; here's what he was saying tonight:
watch #redeye all week! andy hosting 2nit-i'm back on Wed. (on @FallonTonight on tuesday!) More to say later-Tom and Andy still at FNC!

— Tom Shillue (@tomshillue) April 3, 2017
So why was the show 86ed? Not the ratings, I don't think—FNC is coming off the most successful quarter in cable news history, and staffers were told it wasn't about numbers. Rather, the network said it wanted more live news at 3 a.m.
Well, color me skeptical. As a general rule I do not meddle in the affairs of cable news executives, for they are subtle and quick to anger, but the most generous interpretation of this move is that they aim to maximize the recent public explosion of public interest in political news programming, while maybe saving a buck or two. This strikes me as remarkably pound-foolish at a moment when FNC's junior network features a Red Eye-resonant show, Kennedy, which has been going gangbusters since the election. If you want to solve the median-viewer-is-73 problem, you should be preferencing programs that feature youthful anchors not hidebound to the usual political predictability, IMO.
All of which may or may not be fine advice, but I just want to give thanks to everyone at the Red Eye juggernaut for providing viewers a decade of much-needed laughs at the expense of politics, while giving some of us the reps we needed to go out into less friendly climates to talk about this stuff. Your presence will be missed, even as your influence spreads far beyond your broadcast footprint.
Here's Anthony Fisher interviewing Andy Levy two years ago:
* The final indignity! Bill Shultz, whose booting from the show a few years back remains the greatest fan mystery in Red Eye history, is well enough known to me that I have written for him in magazine-world and enjoyed baseball games in his general vicinity. He has plenty of close and distant relations in the industry, including Andrew, who I also know, and, well, it was 2:20 in the morning! But Bill is one of the handful of most talented TV personalities I've ever worked next to.