Chelsea Clinton's Lead Trial Balloon
Journalists try desperately to kick-start a political career that has no good reason to exist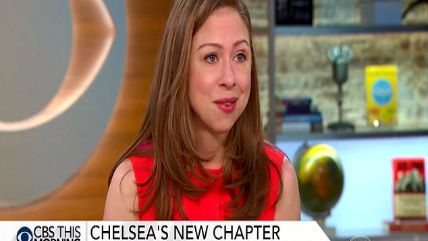 Chelsea Clinton and I have quite a few things in common. For instance, we both live in New York City (albeit in not-so-comparable digs). We both have appeared on NBC-family news programming, though her per-minute rate is roughly $26,724 higher than mine. And we both have had critical things to say about Donald Trump, though I'm not friends with the family.
Yet somehow I'm never impelled to issue wink-wink nudge-nudge denials about, you know, RUNNING FOR PRESIDENT. "I clearly don't agree with our President but I'm not the right person to run to defeat him in 2020," Norah O'Donnell tweeted out this morning from a Clinton appearance on CBS.
As with the target of Clinton's critique, the full context here is considerably worse, starting with the real villain of the piece, CBS This Morning anchor Gayle King. "I feel like déjà vu with your mom all over again," King gushed. "Are you running, are you running, are you running?"
"No. No, no, no," an aww-shucks who-me Clinton replied, before quickly turning the corner:
Um, but I do think it's important that we be talking about all the different ways that is possible to engage in the world. And I think being a citizen isn't something that just happens in an election year. I think it's something that kinda is a call to action for each one of us, Gayle, every single day. And I think there are lots of ways to get involved; clearly running for public office is one of those.

I think to run for public office, though, a few things have to be true. I think you have to have a clear vision of what you would do, kind of, in a given job. I think you have to have a clear sense that you're the best person for that job. And right now, you know, I'm really lucky—I live in a neighborhood here in New York City where I support my city councilwoman, I have a major, not-so-secret girl crush on our Public Advocate, Tish James. I support our mayor, I love my congresswoman, our senators. I clearly don't agree, you know, with our president, but I'm definitely not the right person to run to defeat him in 2020.

So right now, the answer is no. But I think we all need to be asking ourselves that question periodically. And I hope that a lot of young people are gonna use the election to think, "Wow, like, should I run for public office? Am I the right person for a given job?" Whether it's a school board or a senator.
This excruciating string of political banalities and verbal italics, delivered in support of Clinton's activism-for-kidz primer It's Your World: Get Informed, Get Inspired & Get Going!, is even worse to experience audio-visually.
One hopes, despite all leading indicators to the contrary, that the absurdity of Chelsea Clinton answering presidential rumors with "So right now, the answer is no" will put an embarrassed stop to what Commentary's Noah Rothman has described as "the contrived, media-driven campaign to fabricate Chelsea Clinton into a figure of political and cultural relevance." But then again, Rothman wrote those words five weeks ago, and Clinton has been featured since then in at least 10 headlines at The Hill alone (sample: "Chelsea Clinton knocks ObamaCare replacement plan," "Chelsea Clinton plans new children's book: 'She Persisted,'" and "Chelsea Clinton fuels speculation of political run").
The nadir of this puzzlingly persistent genre came in this L.A. Times op-ed by Ann Friedman: "Just like her mother, Chelsea Clinton never gets a break." It's hard out here for a (generously compensated) board member of Expedia and IAC/InterActiveCorp!
I don't want to go full Jacobin mag here—I'm not quite prepared to sign off on Matt Bruenig's conclusion that "You could not put together a more unappealing force in the world than what Chelsea Clinton represents, personally or politically." But if enough foolish journalists are insisting on making Chelsea Clinton's political potential a topic of conversation, I feel duty-bound to add that she does have one longstanding public-policy obsession, on which she—very much like her mother—is as wrong as rain: free speech.
Close your eyes and try to imagine the single worst op-ed headline possible (I mean, aside from that L.A. Times bit above). Can it compete with this?
Those are the words atop this stinker of a CNN piece, co-authored by Chelsea Clinton and James P. Steyer, and described at the time by TechDirt's Mike Masnick as "silly and vapid," "problematic," and "paternalistic," for starters. Steyer, younger brother of Democratic environmentalist billionaire donor Tom Steyer, is founder of the great parental website and anti-great activist group Common Sense Media, on whose advisory board Clinton has long sat. Together, they start with an ominous-sounding yet almost soothingly familiar sense of vague technophobic alarmism….
The impact of heavy media and technology use on kids' social, emotional and cognitive development is only beginning to be studied, and the emergent results are serious. While the research is still in its early stages, it suggests that the Internet may actually be changing how our brains work. Too much hypertext and multimedia content has been linked in some kids to limited attention span, lower comprehension, poor focus, greater risk for depression and diminished long-term memory.

Our new world of digital immersion and multitasking has affected virtually everything from our thought processes and work habits to our capacity for linear thinking and how we feel about ourselves, our friends and even strangers. And it has all happened virtually overnight.
… and then finish it off with some glorious technocratic there-oughtta-be-a-law-ing:
The promise of digital media to transform our lives in positive ways is enormous. If managed well, technology can improve our schools and education, deepen social connectedness, expand civic engagement and even help advance our democracy. But for these positive outcomes to occur, we as a society must confront the challenges endemic in our 24/7 digital world.

We need legislation, educational efforts and norms that reflect 21st-century realities to maximize the opportunities and minimize the risks for our kids. Only then will we be able to give them the safe, healthy childhood and adolescence they deserve.
Retorted TechDirt's Masnick:
We've gone through this dozens of time. No, the internet is not perfectly safe for kids, but neither is walking down the street. In some cases, you don't let your kids walk down the street alone, but as they get older, you teach them how to have a basic sense of street smarts, and you give them more power. None of that required special "protect the children!" laws. It does seem clear that kids need to learn some "internet street smarts," but that shouldn't require legislation. We've already seen how "protect the children" legislation has backfired in a big bad way.

For example, we already have COPPA, which basically makes it very very very difficult for companies to offer services to kids under 13-years-old. But this artificial barrier means that parents lie to help get their kids online.
COPPA, or the Children's Online Privacy Protection Act, was signed into law by Bill Clinton in 1998. Common Sense Media has been trying to toughen it up ever since, drawing alarm from civil libertarian and free-speech groups. The Steyer and Clinton families, in fact, have been collaborating for nearly three decades on restricting the technological frontiers of speech in the name of protecting the children. Common Sense was a key backer of California's ban on selling violent video games to minors, an almost exact nationwide replica of which was sponsored by then-Sen. Hillary Clinton, though it was eventually overturned on free speech grounds by the Supreme Court.
Chelsea Clinton isn't just some distracted rando casually lending her famous name to Steyer's life work—she was his "star student" as an undergrad at Stanford ("The No. 1 thing Bill and Hillary accomplished is raising Chelsea Clinton," he once said). Steyer drafted Clinton, at the precocious age of 22, to write the afterward to his 2002 book The Other Parent: The Inside Story of the Media's Effect on Our Children.
"Toward the end of class," she recounted there, "I got to know Professor Steyer better and was excited when he asked me to help him research a book he was preparing to write on kids and the media. My acceptance of his offer led to one of my most important academic and personal experiences at Stanford. Over the next year, I worked on compiling information about studies spanning everything from the way race is portrayed in the media, to the digital divide, to the ways in which violence in different media affects kids differently, to the ways in which commercialism affects both what media kids consume and how. The last topic interested me most, and it was to it that I devoted most of my time….As Jim helped reveal to me, media is everything and everywhere."
If all of this sounds familiar, that's because it's ripped from the same cloth as Hillary Clinton's three-decade crusade against the pernicious and all-pervasive effects of media and technology on children, a passion that has landed her on the wrong side of the Supreme Court's First Amendment jurisprudence a half-dozen times.
If Chelsea Clinton indeed inflicts her family values on our electoral politics, you can bet your iPhone that she will advocate heroically placing the government between technology and your children. Next time maybe Gayle King can ask about that.