From the Archives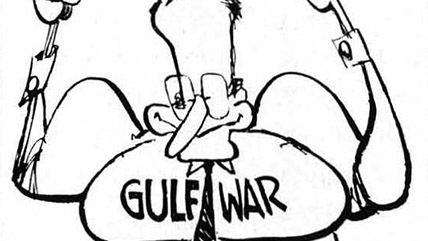 (Chip Bok, Akron Beacon Journal)
15 YEARS AGO
April 2002 "Immediately after the attacks, President Bush was widely mocked for imploring people to go shopping, to get on with their normal lives, to do anything to show the terrorists that they couldn't destroy our way of life. At times, he seemed to stop just short of telling people to have more sex to enrage Osama bin Laden and company."
NICK GILLESPIE
"Back to Bedrock"
"No cause in the history of mankind has produced more cold-blooded tyrants, more slaughtered innocents, and more orphans than communism. It surpassed, exponentially, all other systems of production in turning out the dead."
ALAN CHARLES KORS
"Rose-Colored Glasses"
"The ACLU report focuses on Ybor City, Florida, where police began installing surveillance cameras with facial recognition technology last July. Faces caught on camera were compared by a computer to a database of 30,000 wanted criminals, a scheme that resulted in a loud outcry from privacy advocates. One dismayed resident told the local alternative paper The Weekly Planet that 'citizens of [Ybor] are now subjected to a police lineup for the crime of walking down the street.'"
JEREMY LOTT
"Fake IDs"
25 YEARS AGO
April 1992 "The Global 2000 Report to the President…estimated that by the end of this century deforestation and industrial activity could wipe out 15 percent to 20 percent of all the planet's species."
CHARLES OLIVER
"All Creatures Great and Small"
"As the Cold War fades, it is clear that many conflicts, once deemed of vital strategic importance, are now regional wars of little concern to the United States. As Irving Kristol has observed, what difference does it make to America who rules Liberia?"
MARTIN MORSE WOOSTER
"The Third Way"
"Citizens of Singapore, the former British colony on the southern tip of the Malaysian peninsula, have learned to live with laws and ordinances that cover virtually every aspect of their highly supervised lives. Undercover litter police hand out $500 fines for an errantly tossed soda can; failure to flush a public toilet carries a penalty of $250; and jaywalking at one of the city's tightly regulated intersections can land the offender in jail."
MICHAEL KONIK
"Studs"
"The right to construct your own identity…has never included the right to control the speech or thoughts of others—to dictate to them how they should perceive you."
JACOB SULLUM
"Secrets for Sale"
"Which brings us to the fate of the West. It no longer exists. The term has ceased to be meaningful, for without an East there can be no West. Regions, nations, cultures still express themselves, still claim allegiances. But 'the West' has blended into a world civilization, to which many cultures contribute. This civilization is greater than and different from the sum of its parts. And its basis is liberal democracy—an idea that wasn't supposed to work in Germany, or southern Europe, or Latin America, or Russia, or Asia, and still isn't supposed to work in Africa."
VIRGINIA POSTREL
"New World Man"
40 YEARS AGO
April 1977 "In 1960, the total employed by federal, state and local governments was 8.3 million. By 1976, the number had increased to 15 million, an increase three times faster than the growth of the U.S. population."
ABRAHAM H. KALISH
"Buying Off Bureaucrats"
"A list of the myriad detrimental effects that a vast military-industrial complex imposes on society could go on and on. There would, for example, be no national debt and no inflation, and the United States would be infinitely wealthier for not having wasted so much of its scarce national resources on production yielding no return."
BRUCE BARTLETT
"Why We Still Have a War Economy"
"Marvin (Mickey) Edwards, the new Republican Congressman from Oklahoma, is introducing legislation which would provide for Congressional salaries to fall as inflation rises. It doesn't have a snowball's chance of passage, of course, but it's a fun concept. More legislation like this would be welcome."
ALAN W. BOCK
"Washington Watch"
This article originally appeared in print under the headline "From the Archives".