Rejuvenation By Killing Off Senescent Cells and by Boosting DNA Repair: New at Reason
Two new studies report experiments that successfully reverse aging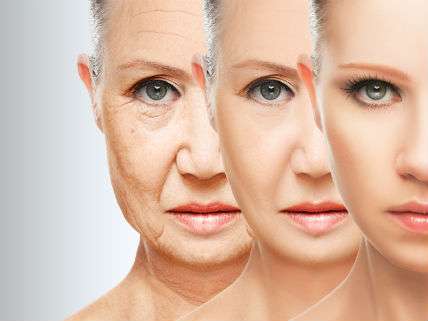 "In this world nothing can be said to be certain, except death and taxes," quipped Benjamin Franklin. For now both remain inevitable, but two exciting new studies suggest that the grim reaper might be put off by novel treatments that can slow and even reverse aging.
Senescent cells accumulate as we grow older, secreting inflammatory substances that harm neighboring cells and contribute to many age-related diseases, including atherosclerorsis and diabetes. Researchers associated with Erasmus University report that they have developed a compound that selectively kills off senescent cells while leaving healthy ones alone. Eliminating senescent cells restored stamina, fur density, and kidney function in aged mice. The researchers report that they are continuing to study the rodents to see if the treatment extends their lifespans. "Maybe when you get to 65 you'll go every five years for your anti-senescence shot in the clinic. You'll go for your rejuvenation shot," speculated one researcher.
As we age, our cells lose their ability to repair the damage to the DNA that makes up our genes. Another team of researchers associated with Harvard University are reporting experiments that increase levels of a compound that restores DNA repair activity back to youthful levels.