Uber Leaving Denmark Over New Taxi Law—Nationalists, Socialists Rejoice
Company says it's not closing a development office in Denmark and says closing is "not necessarily a farewell."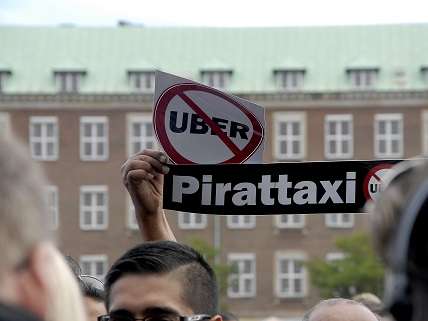 The ridesharing service Uber announced they were "closing in Denmark" because of a new taxi law that requires, among other things, mandatory fare meters and seat occupancy detectors, Agence France-Presse reports. Uber will suspend its service on April 18.
"This is not necessarily a farewell to Denmark, but a message that we cannot live with the legislation that's in the field now," an Uber spokesperson said at a press conference in Copenhagen. According to TechCrunch, Uber said it was not planning to close a development operation in Denmark that employs 40 engineers, something TechCrunch suggests "may also be a not-so-subtle attempt to play politics with local lawmakers."
Members of two of the three parties in Denmark's governing coalition lamented the lack of support for a liberalization of taxi laws that would make it easier for companies like Uber to operate. The transportation minister, Ole Birk Olesen, a member of the Liberal Alliance, which The Local of Denmark has described as "libertarian-leaning," called the lack of support for taxi deregulation "unfortunate."
"I believe that we should be open to new technology and innovative business models, Olesen wrote, saying he was "grateful" that at least there was a measure in the new taxi law to "monitor technological developments and see whether in future there might be a parliamentary majority that supports smarter control of taxi services than there is today with the likes of taxi meters."
Conservative member of parliament Rasmus Jarlov, described by The Local as "one of Uber's biggest supporters in parliament" blamed opposition parties that he said "forced" the government "to make a law that has forced Uber out of Denmark. The government parties regret this."
Socialists and nationalists, on the other hand, rejoiced. Karsten Hønge, a member of parliament from the Socialist People's Party and its transport spokesperson, said it was a "happy occasion that Uber is being driven to the scrapyard—I have not shed a tear."
"I am glad that our society is taking a stand against a company as greedy and avaricious and Uber," Hønge said, as The Local reports. The leader of the Liberal Alliance slammed him for supporting "more expensive personal transport." A spokesperson for the Liberal Alliance pointed out that 200,000 Danes used Uber in Copenhagen and that the law was "hugely regrettable" for them and "for the drivers who have gained an income from it."
The nationalist Danish People's Party also supported the restrictive new law, with its leader, Kim Christiansen, saying it was "quite excellent" Uber was leaving the country.
"It is good that Uber has realised that the concept and way they want to do business is not something we want to do in Denmark," he said.
Uber says it hopes it can work with the government "in the hope that they will update their proposed regulations and again enable Danes to enjoy the benefits of modern technologies like Uber." In December, Uber was indicted in Denmark for allegedly helping drivers skirt taxi laws.
Ultimately, Uber connects individuals willing to give others a ride with individuals in need of a ride. But the needs existed before Uber. Laws that target companies like Uber target essentially voluntary transactions, pushing the government deeper into the lives of purportedly free people.