Trump's Purported 300 Billion Euro NATO 'Bill' to Germany a Horrible Sign for Reform
White House denies the report but Trump's position that Germany "owes" the U.S. and the proposed massive increase in military spending don't bode well either.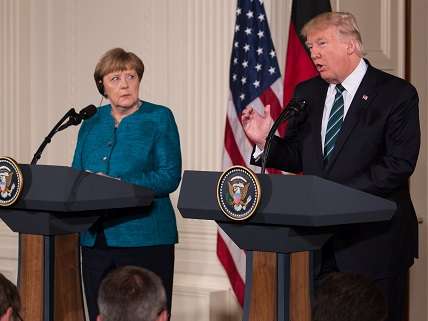 Those hoping a Trump presidency could spur reforms of the North Atlantic Treaty Organization (NATO) have cause for more skepticism after President Trump's latest stunt. According to German government sources, the president handed Germany Chancellor Angela Merkel a "bill" for 300 billion euros, The Times of London reported.
The White House denied the report to CNBC, calling it "false." A spokesperson for the German government said that reports that Trump had given Merkel "a kind of bill with a concrete billion sum are not true."
German ministers quoted anonymously by The Times called the fake bill an effort at "intimidation." President Trump has insisted NATO members meet a 2014 commitment to spend at least 2 percent of their GDP on defense, and has accused Germany of owing "vast sums of money" to NATO, tweeting that the U.S. "must be paid more for the powerful, and very expensive, defense it provides to Germany!"
While Germany is failing to meet its GDP commitment (it spends 1.2 percent on defense—of European NATO members, only Estonia, Poland, Greece, and the United Kingdom spend at least 2 percent of GDP), NATO funding is not structured in such a way that NATO can be "owed" anything. Simply put, Germany spends so little because the U.S. spends so much. The U.S. is not obligated to spend as much as it does—it should be unsurprising that the more it spends the less other members spend. The most effective way to incentivize other NATO members to spend more on defense is for the U.S. to spend less.
Yet President Trump's opening negotiating position—asking for a massive increase in U.S. defense spending—only exacerbates the spending imbalances. Defense Secretary James Mattis delivered a message to fellow NATO defense chiefs in Brussels in February—diplomatically telling his colleagues they needed to increase their commitments to NATO and defense spending if they did not want to see the U.S. "moderate" its own. European leaders pushed back on this notion. Given Trump's proposed increase in military spending after Mattis' message, it appears European leaders called Trump's bluff. A decrease in defense spending is the most concrete way the U.S. can "moderate" its NATO commitment.
Military spending Increases signal that the U.S. is not interested in such moderation, and that rhetoric suggesting otherwise is aimed more at a domestic audience than an international one. If President Trump is truly interested in Germany paying for its own defense, he should put withdrawing U.S. military assets from Germany on the table instead of empty claims that Germany "owes" NATO or the U.S. Even a budget proposal that kept defense spending the same could be used for this purpose if it came with a reprioritization. A massive increase, on the other hand, shows an unwillingness to think critically about military priorities, a necessary prerequisite for NATO reform to be a policy goal and not just a rhetorical tool.