Massachusetts Prepares to Vacate Nearly 24,000 Tainted Drug Convictions
Prosecutors are expected to drop nearly all of the convictions based on the work of a drug lab chemist who falsified evidence in favor of police.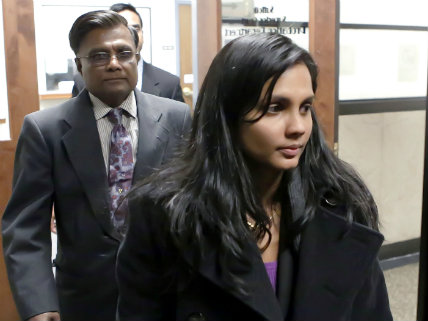 Massachusetts prosecutors will move in mid-April to vacate nearly all of the roughly 24,000 drug convictions tainted by a single corrupt forensic lab chemist, The Boston Globe reported Saturday, marking the denouement of one of the largest drug lab scandals in U.S. history.
A Massachusetts prosecutor told the state's Supreme Judicial Court last week that D.A.'s would seek to keep fewer than 1,000 of the 24,000 convictions tainted by drug lab chemist Annie Dookahn, who pled guilty in 2012 to falsifying test results in favor of law enforcement and tampering with evidence over a nine-year period starting in 2003.
"Without putting numbers on it, it's in the ballpark that the court was looking for," Robert J. Bender, a Middlesex County assistant district attorney, said during a March 16 hearing, according to Globe. "Hundreds of cases, not thousands of cases."
Since Dookhan was convicted, the Massachusetts criminal justice system has been reeling under the number of so-called "Dookhan defendants" and how to ensure justice for all of them. Dookhan managed to taint an estimated one in six drug cases in Massachusetts between 2003 and 2012.
As I reported in January, the court declined to vacate the cases en masse, but ordered prosecutors to review and clear as many of the cases as they could:
The Massachusetts chapter of the American Civil Liberties Union was pressing the state's high court to vacate the convictions en masse, arguing it would take 48 years to assign public defenders to each of the 24,483 defendants potentially harmed by the Dookhan's dirty work.

The court declined to take such sweeping action, instead ordering state prosecutors to dismiss all cases within 90 days it would not or could not reprosecute if given a new trial. In addition, it ordered clear notifications to be sent to remaining defendants informing them of their right to challenge their convictions.

In a statement, Matt Segal, legal director of the ACLU of Massachusetts said Wednesday's ruling "is a major victory for justice, fairness, and tens of thousands of people in the Commonwealth who were wrongfully convicted of drug offenses."

"The court has called on prosecutors to dismiss the drug charges against most of the Dookhan defendants and to provide meaningful notice to the remaining defendants, all by fixed deadlines," Segal said. "It is now time for the DAs to step up and finally allow Massachusetts to turn the page on the worst drug lab scandal in our nation's history, especially because the Amherst drug lab scandal involving chemist Sonja Farak has called into question thousands more drug convictions."
The list of cases is due from county prosecutors on April 18.
Dookhan's case is among the largest, but far from the only forensics scandal that potentially ruined the lives of thousands of criminal defendants. Just last month in Florida, the Orange County State Attorney's Office sent letters to 2,600 area defense attorneys, notifying them that their clients' cases may have been compromised by the work of a fingerprint expert.