Harlots Doesn't Sell Out When Detailing Lives of 18th Century British Hookers
New historical sex drama comes to Hulu.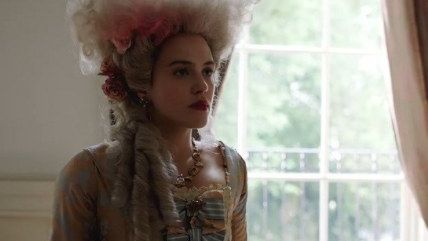 Harlots. Hulu. Available March 29.
Somewhere in the vast terrain between the hooker-as-fairytale-princess fantasy of Julia Roberts in Pretty Woman and the prim, grim Victorian sociology of Stephen Crane's Maggie: A Woman of the Streets lies Harlots, Hulu's odd but engrossing new drama about life inside an 18th-century London brothel.
Screenwriter Moira Buffini, one of the five British women who produce, write, and direct Harlots, said in unveiling the project that the goal was "everything from the whore's-eye view." The result is that the women in Harlots are neither glamorous courtesans nor broken flowers, and their depiction is never erotic. There's plenty of nudity, of both sexes, but you've seen commercials for bladder medication that were sexier.
The Harlots hookers don't make much money, but it's a living—and they regard the cops and and do-gooder moralists trying to close their house less as saviors than as a circling wolfpack. When a judge who's been asked to close the bordello as a public nuisance haughtily declares that "I grieve for the desperate women I have seen today who, faced with starvation, have sold their flesh," the prostitutes in the courtroom exchange looks laden with the unspoken question: "So you think we'll be better off in jail?"
Harlots opens in 1763 with a prologue that claims a fifth of the women in London were hookers. That runs far ahead of police estimates of the day, but there's little doubt prostitution was a major industry. One of the show's early scenes, in which the women amuse themselves by reading their own notices in a Consumer Reports-style guide to the various local hookers and their skill sets ("one of the finest, fattest figures as fully finished for fun and frolick as fertile fancy ever formed…") is drawn from documented history.
The brothel at the heart of Harlots is operated by Margaret Wells (Samantha Morton, nominated for an Oscar in 2002 as the troubled young immigrant mother of In America), a veteran of the trade whose virginity was bartered away for a pair of shoes at age 10 by her own mother.
Margaret, buffeted by high rent and increasing graft demands by cops, hopes to get a much higher price for the maidenhead of her teenaged daughter Lucy (British TV actress Eloise Smyth). And she's playing the even more lucrative long game with slightly older but much more reluctant daughter Charlotte, who she's trying to place as an indentured consort to a wealthy nobleman.
But her plans must be dangerously accelerated when cops raid her house, putting her out of business at least temporarily, and a rival madame (Lesley Manville of the British version of Law & Order) starts raiding her corps of whores. It turns out these two events are not coincidental. In a classic example of the regulatory-economics parable known as Baptists and Bootleggers, the other madame has been funding a decency group to attack Margaret's brothel and clear away the competition.
That plot description sounds bleak, which is not entirely fair. Harlots burbles with the bawdy workplace humor of the hookers, from their theories about the sexual ontology of the reformers (the blind leader of the decency group, they speculate, lost her eyesight after putting her eyes out upon seeing her first penis on her wedding night) to, tart—heh-heh—remarks about job training. Told she must undergo instruction in cultural refinements, one of the women inquires, wide-eyed: "So, you will teach my cunny French?"
The humor extends to the casting of Charlotte, the steely daughter resisting indenturement. She's played (quite well) by Jessica Brown Findlay, that sweet and gentle Lady Sibyl of Downton Abbey, whose death in childbirth so unhinged PBS cultists that the Washington Post ran a medical story explaining preeclampsia, the obscure condition that killed her, demanding an explanation of her inadequate treatment: "If Lord Grantham had listened to the country doc and sent his daughter to the hospital for a Caesarean section, would she have lived?" I'll buy a drink for the first one to write the Post asking if the preeclampsia could have been caused by repeated cases of 18th-century syphilis.
Still, there is an underlying bitterness to Harlots, less toward the prostitution itself than its root cause, a coarsened society in which the options are so limited for women that becoming chattel actually represents an achievement. "Thank you, Mum, for all you've done for me and Lucy," says Charlotte in a dead voice upon hearing the story about being swapped for a pair of shoes. "You never, ever sold us short." Murmurs her mother in heartbroken reply: "I prayed for boys."