Do Muslims Commit Most U.S. Terrorist Attacks?
Nope. Not even close.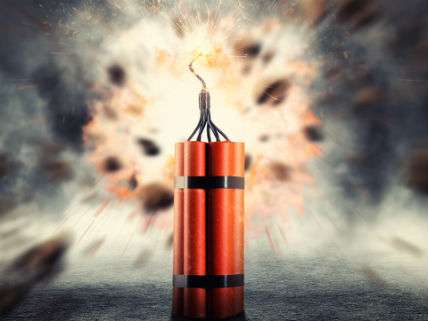 "It's gotten to a point where it's not even being reported. In many cases, the very, very dishonest press doesn't want to report it," asserted President Donald Trump a month ago. He was referring to a purported media reticence to report on terror attacks in Europe. "They have their reasons, and you understand that," he added. The implication, I think, is that the politically correct press is concealing terrorists' backgrounds.
To bolster the president's claims, the White House then released a list of 78 terror attacks from around the globe that Trump's minions think were underreported. All of the attackers on the list were Muslim—and all of the attacks had been reported by multiple news outlets.
Some researchers at Georgia State University have an alternate idea: Perhaps the media are overreporting some of the attacks. Political scientist Erin Kearns and her colleagues raise that possibility in a preliminary working paper called "Why Do Some Terrorist Attacks Receive More Media Attention Than Others?"
First they ask how many terror attacks have taken place between 2011 and 2015. (The 2016 data will become available later this summer.) The Global Terrorism Database at the University of Maryland, which catalogs information on over 150,000 incidents since 1970, defines terrorism as an "intentional act of violence or threat of violence by a non-state actor" that meets at least two of three criteria. First, that it be "aimed at attaining a political, economic, religious, or social goal." Second, that there is "evidence of an intention to coerce, intimidate, or convey some other message to a larger audience (or audiences) other than the immediate victims." And finally, that it be "outside the precepts of International Humanitarian Law."
The Georgia State researchers report that the database catalogs 110 terrorist attacks in the U.S. over the most recent five-year span period in the database. (Globally, there were more than 57,000 terrorist attacks during that period.) In some cases, the media tended to report several attacks perpetrated by the same people as a single combined story; following their lead, the researchers reduce the number to 89 attacks.
They then set out to answer four different questions: Would an attack receive more coverage if the perpetrators were Muslim, if they were arrested, if they aimed at government employees or facilities, or if it resulted in a high number of deaths?
From a series of searches at LexisNexis and CNN.com, Kearns and her colleagues gathered a dataset of 2,413 relevant news articles. If each attack had received equal media attention, they would have garnered an average of 27 news articles apiece. Interestingly, 24 of the attacks listed in the GTD did not receive any reports in the news sources they probed. For example, a cursory Nexis search failed to turn up any news stories about a 2011 arson attack on townhouses under construction in Grand Rapids, Michigan. An internet search by me did find several local news reports that cited a threatening letter warning residents to leave the neighborhood: "This attack was not isolated, nor will it be the last. We are not peaceful. We are not willing to negotiate." The GTD reports so far that no one has been apprehended for the attack.
For those five years, the researchers found, Muslims carried out only 11 out of the 89 attacks, yet those attacks received 44 percent of the media coverage. (Meanwhile, 18 attacks actually targeted Muslims in America. The Boston marathon bombing generated 474 news reports, amounting to 20 percent of the media terrorism coverage during the period analyzed. Overall, the authors report, "The average attack with a Muslim perpetrator is covered in 90.8 articles. Attacks with a Muslim, foreign-born perpetrator are covered in 192.8 articles on average. Compare this with other attacks, which received an average of 18.1 articles."
Some non-Muslims did get intense coverage. Wade Michael Page, who killed six people in an attack on a Sikh temple in Oak Creek, Wisconsin, generated 92 articles, or 3.8 percent of the dataset. Dylann Roof's murder of nine black churchgoers in Charleston, South Carolina, inspired 179 articles, or 7.4 percent. Robert Dear's slaying of three people at a Planned Parenthood in Colorado Springs led to 204 articles, or 8.5 percent. Still, "Controlling for target type, fatalities, and being arrested, attacks by Muslim perpetrators received, on average, 449% more coverage than other attacks."
No doubt this greater media focus on Muslim perpetrators has badly skewed the public's—and Trump's—impressions about the sources of terrorist attacks in the U.S. On the other hand, the Georgia State researchers do not acknowledge an important difference between the purveyors of jihadist ideology and domestic racists like Page and Roof. ISIS and Al Qaeda are adroit publicists who have leveraged their relatively few attacks into successfully instilling a sense of terror into many Americans.
The Georgia State researchers conclude: "By covering terrorist attacks by Muslims dramatically more than other incidents, media frame this type of event as more prevalent. Based on these findings, it is no wonder that Americans are so fearful of radical Islamic terrorism. Reality shows, however, that these fears are misplaced."
Such fears are indeed misplaced. Your risk of being killed in a jihadist terror attack in the last 15 years amounted to roughly 1 in 2,640,000. Even if you stretch the period back to include 9/11, the risk would still just have been 1 in 110,000. Your lifetime risk of dying in a lightning strike is 1 in 161,000, and your chance of being killed in a motor vehicle crash is 1 in 114. Given that our government has already squandered more than $500 billion on homeland security, while encroaching on our liberties, it is vital that Americans keep the threat of terrorism in perspective. This new study is one small step in that direction.