Trump Team Was 'Incidentally' Snooped on Post-Election, Says GOP Intel Chair Devin Nunes
Meanwhile, guess which side is now assuming surveillance equals guilt?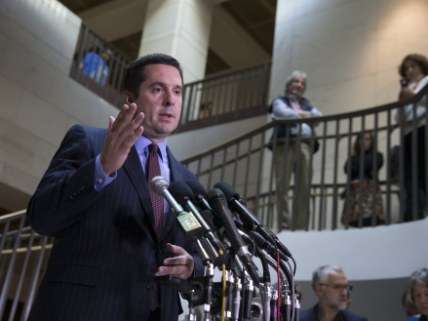 Republican House Intel Chairman Devin Nunes (R-California) held a rather unusual press conference this afternoon to declare that he had received information that the feds did indeed secretly collect and disseminate private info from and about Trump's transition team post-election.
To be clear, Nunes (a Trump supporter) said that whatever private information was collected during surveillance was "incidental." This likely means that the team members were not direct targets of federal surveillance but were in contact with people who actually were targets, and whatever happened during conversations or communications got swept up in surveillance. The actual targets could be people under federal investigation, but they could also be any foreign power the government is keeping an eye on.
The natural inclination here is to assume this is part of the whole dust-up over ties between the Trump administration and Russia. Funny there's news on that today, too. Nunes wouldn't say a whole lot about what was happening (which makes his run to the media a little weird) but insisted that this incidental surveillance was not connected to Russia at all. He also seems to think the incidental collection itself was "legal," but isn't entirely sure.
It seems as though the press conference is intended to bolster the argument coming from some Republicans that the problem here is the leaking or spread of information within the intelligence community. Nunes said that some names had been "unmasked" in intelligence reports that had been distributed internally. This means that, much like what might have happened with former National Security Adviser Michael Flynn, the names of Americans who had been swept up in this surveillance may have gotten into the hands of intelligence community workers who weren't supposed to have them.
Nunes is a mass surveillance supporter, and so he's trying to thread a needle here. He wants to present Trump and Trump's staff as having their privacy violated by leaks while not wanting to suggest there's a problem with the amount of surveillance that takes place.
But there is a definite "Switch places, everybody!" mentality on surveillance authority now that Trump and Trump's people have been targeted. This tweet by Rep. Ted Lieu (D-Calif.) is quick to say that the surveillance must have been connected to an investigation or influence by a foreign power. Lieu, however, is also a big opponent of mass unwarranted surveillance, and you'd think he'd be a bigger skeptic than this. Getting your private data and information "incidentially" collected in surveillance is not and should not be treated as evidence of wrongdoing, and that was partly the point of efforts to restrict federal authorities collecting whatever they could.
In all likelihood, mass unwarranted surveillance played absolutely no role in this snooping, and the intelligence officials had secret warrants though the Foreign Intelligence Surveillance Courts. But for somebody who sits on Congress' Fourth Amendment Caucus to jump in the direction that suggests an assumption of guilt on the basis of it being a political opponent is a problem.
Clearly, there will be a lot more to come on this issue. Watch a bit of the presser with Nunes below. Trump has said he feels "somewhat vindicated" (according to the Associated Press) about his insistence that he had been wiretapped. (UPDATE: Rep. Adam Schiff, ranking Democrat on the Intelligence committee, responds here to the oddness of Nunes running to the press):
.@devingnunes: "I have seen intelligence reports that clearly show that the President-elect and his team were, I guess, at least monitored…" pic.twitter.com/wCxJu3irPZ

— CSPAN (@cspan) March 22, 2017