Why Is Planned Parenthood So Popular? Because Government Thwarts Alternatives
Look beyond Medicaid to really cut dependence on Planned Parenthood while still ensuring that low-income women have access to medical care.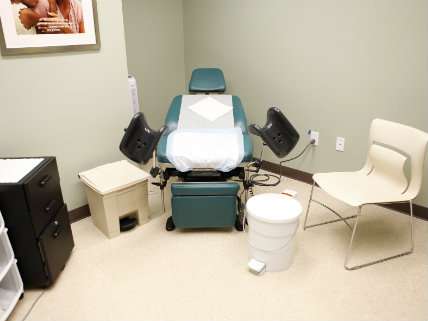 A provision in the Republican health care bill would bar Medicaid patients from choosing Planned Parenthood clinics for covered care. The idea, ostensibly, is to curtail abortion by driving Planned Parenthood out of business. Some folks also argue that the move is fiscally responsible. But contrary to conservative talking points, terminating Medicaid's relationship with Planned Parenthood would neither drive down costs for the publicly-funded health insurance program nor reduce dependence on abortion, as I note in today's Los Angeles Times.
If, as Republicans insist, patients can seek all the same services elsewhere, Medicaid costs will remain unchanged. The move won't necessarily affect Planned Parenthood's ability to provide abortions, since it doesn't rely on Medicaid reimbursements for this service. At the same time, less access to contraception and family-planning services could lead to greater demand to terminate pregnancies.
Presently, the U.S. health care scene is totally ill-equipped to handle the influx of low-income, reproductive- and sexual-health care patients we would see if we simply strip Planned Parenthood from patient options. America is already experiencing a shortage of obstetricians and gynecologists, many private providers won't see Medicaid patients, and community health centers are stretched thin as it is. Meanwhile, more than half of the approximately 2.8 million patients Planned Parenthood sees annually cover their visits via Medicaid. Like it or not, Planned Parenthood—which provides everything from cervical cancer screenings and urinary tract infection treatment to emergency contraception, prenatal care, and vasectomies—is currently a crucial part of the medical care and family-planning ecosystem.
Want to reduce dependence on Planned Parenthood? Look at why it's so popular among Medicaid patients in the first place, what alternatives currently exist (not a lot), and how we can remedy this dearth of alternatives. In many cases, government rules are to blame. But simple changes—allowing birth control pills to be sold over-the-counter; clearing the regulatory way for telemedicine; rethinking scope-of-practice rules that prevent nurse practitioners, pharmacists, and midwives from performing tasks they're perfectly capable of; and repealing regulations that prevent non-traditional providers (like mobile or retail health care clinics) from setting up shop in medically underserved areas, for starters—could go a long way toward making it so Planned Parenthood isn't the only OB-GYN option for many. And as I argue in the Times,
Helping bring more medical options to marginalized populations is a worthy goal for even the most ardent Planned Parenthood supporter.

Whether one's underlying goal is ensuring access to vital reproductive and sexual healthcare, reducing women's need for abortions, or reducing publicly funded healthcare expenditures, focusing on breaking down barriers to innovative, independent and cost-effective care in underserved areas will make a world more difference than micromanaging where poor women can get birth control pills.
Read the whole thing here.