Pennsylvania House Passes Bill to Hide Cops' Names After Shootings
The legislature passed the same bill last year, but the governor vetoed it. If at first you don't succeed...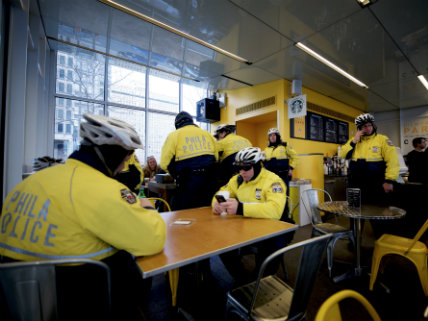 A bill that would shield the release of the names of police officers involved in fatal shootings sailed through the Pennsylvania House Monday, over the objections of civil liberties groups who say it would "throw a cloak of secrecy" over serious use-of-force incidents by police.
Pennsylvania House Bill 27 would place a 30-day gag, except for district attorneys and the state attorney general, on identifying a police officer involved in a use-of-force incident that results in death or serious injury. It passed by a vote of 157-39. Supporters say the bill will protect officers from harassment and retribution after high-profile incidents, but opponents, like the Pennsylvania chapter of the American Civil Liberties Union, say it keeps vital information the public.
"Let's be very clear about what this legislation does: This bill hides police who kill," Reggie Shuford, executive director of the ACLU of Pennsylvania, said in a statement. "The criminal justice system is already heavily weighted in favor of the police. This bill throws a cloak of secrecy over them at times when communities need information the most, after someone has been killed or seriously injured."
The Philadelphia Police Department has a policy of releasing the names of officers involved in fatal shootings within 72 hours, but currently the decision of when, and if, to release officers' names is left to the discretion of police chiefs and prosecutors.
The Pennsylvania legislature passed the same bill last year by wide, bipartisan margin, but Gov. Tom Wolf vetoed it, saying "government works best when trust and openness exist between citizens and their government, and as such, I cannot sign into law a policy that will enshrine the withholding of information in the public interest."
"These situations in particular—when law enforcement uses deadly force—demand utmost transparency, otherwise a harmful mistrust will grow between police officers and the communities they protect and serve," Wolf continued. "Further, I cannot allow local police department policies to be superseded and transparency to be criminalized, as local departments are best equipped to decide what information is appropriate to release to the public."
Asked if Wolf would veto the bill again, the governor's office responded: "The governor's opposition to this bill remains unchanged."
The bill is yet another salvo in the legislative battle going on in statehouses across the U.S. over police reform. In opposition to activists calling for aggressive police reform, state lawmakers have introduced numerous "blue lives matter" bills, such as ones that would make police officers a protected class under hate crime laws. Last year, North Carolina passed a bill exempting police body cam footage from the state's public record law.