In His Last Budget, Christie Continues to Show What Not to Do With Pensions
Christie gets half-credit for doing more than any of his predecessors, but his efforts reveal just how daunting the state's pension crisis really is.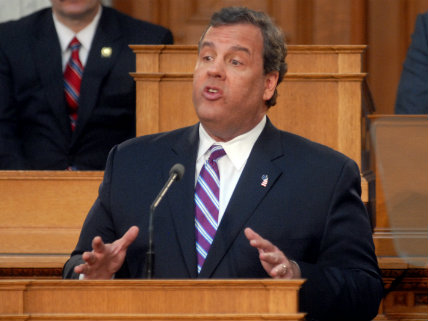 Gov. Chris Christie will leave office next year, and his final state budget has left a real mess for whoever succeeds him as New Jersey's chief executive.
An analysis by S&P Global Ratings, one of the three major credit ratings agencies, says New Jersey's budget remains "structurally imbalanced" thanks to underfunded state pension systems.
"Christie's fiscal 2018 budget proposal might look fine in the near term, but long term, structural balance remains elusive thanks to the state's continued deferral of full funding for future retirement obligations," wrote David Hitchcock and John Sugden, the two S&P analysts who authored the report. "The picture looks much worse" in future years, they warned, since the current budget relies on a series of short-term fixes.
Those concerns probably sound familiar, because they're almost identical to the reasons given for the 10 credit rating downgrades New Jersey has recieved during Christie's tenure. The most recent downgrade came in November, when S&P cut the state's rating to A-, the fourth lowest grade in their system.
In the new budget plan, Christie has proposed to pay about $2.5 billion into the pension fund during the next fiscal year, which starts on July 1, but that's not enough to satisfy the public retirement system's needs. It's not even close. New Jersey's pension funds are facing a deficit of more than $135 billion, one of the worst shortfalls in the country. Actuaries for the funds say nearly $5 billion in state contributions would be needed next year to break even.
"We have done more for the solvency and stability of the pension system than any governor in history despite all the empty rhetoric to the contrary," Christie said last month during his budget address.
Incredibly, he's right. That's how bad things are in New Jersey.
Bloomberg did the math and determined that Christie has paid more than $8.8 billion into the state pension system since he took over as governor in 2010. That's more than double the total payments made by all New Jersey governors in the 16 years before Christie took over—so give him some credit there—but it's less than half of what the pension system needs on an annual basis to remain solvent, according to the actuaries who make such determinations.
That should give you a sense of both how completely unsustainable New Jersey's (and many other states') pension mess is, and also how long it's been ignored. Christie has paid more than three decades of pension bills in just eight years, and yet he's still only halfway to breaking even.
And who might inherit this fiscal disaster? Possibly Reason buddy Preet Bharara, maybe.