Trump Administration to Review Obama-Era CAFE Standards
'We're going to work on the CAFE standards so you can make cars in America again'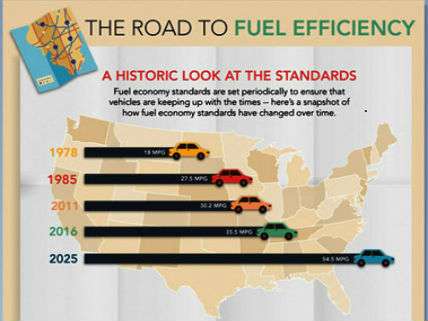 On its way out the door in January, the Obama administration rushed to lock in the Environmental Protection Agency's Corporate Average Fuel Efficiency (CAFE) standards at 54.5 miles per gallon for light duty vehicles by 2025. The final determination also calculated that the higher CAFE standards would save American drivers nearly $100 billion in fuel costs by 2025.
Today, President Donald Trump told a cheering audience of auto industry workers in Michigan: "We're going to work on the CAFE standards so you can make cars in America again. We're going to help companies so they are going to help you. We're going to be the car capital of the world again."
New EPA administrator Scott Pruitt also announced today that the agency in coordination with the Department of Transportation's (DOT) National Highway Traffic Safety Administration (NHTSA) will reconsider the final determination and decide by April 1, 2018 whether the Obama-era CAFE standards will stand. The reconsideration of the stringent CAFE standards is taking place at the request of American automakers who argue in a February letter to Pruitt that they are unachievable using currently foreseen automotive technologies. In its letter the Alliance of Auto Manufacturers asserts that the Obama adminstration's EPA final determination is "riddled with indefensible assumptions" regarding available technologies, consumer acceptance, technology affordability, and industry employment effects. The Alliance is not asking for a different final determination "at this time." The group just wants the agency resume the evaluation "consistent with the timetable embodied in the EPA's own regulations."
The environmental lobby is not happy. "Americans don't want to return to days of more pollution and higher fuel costs. They want a clean, efficient economy. Rolling back vehicle fuel standards would make Americans spend more at the pump, leaving them with less for their families and basic needs," declared Kristin Igusky, Climate Program Associate at the World Resources Institute in a statement. "In compelling a review of these standards, the administration is creating more uncertainty and blocking progress toward cleaner, more efficient vehicles for America."
Whatever else they do, CAFE standards especially hurt the poor. As I reported in January:
In a new study contrasting the effects on consumers of energy efficiency standards versus energy taxes, the Georgetown economist Arik Levinson notes that both energy efficiency standards and energy taxes function as a regressive tax, taking a larger percentage of a lower income and a smaller percentage of a higher income. His analysis aims to find out which is more regressive—in other words, which is worse for poor Americans.

Levinson cites earlier research that estimates a gasoline tax would cost 71 percent less than the comparable CAFE policy per gallon of fuel saved. Meanwhile, a 2013 study calculates that CAFE standards cost more than six times as much as a corresponding gas tax for the same reduction in fuel consumption. In other words, if policy makers want people to use less fuel and drive more fuel-efficient cars, taxing gasoline is a much cheaper way to achieve that goal than mandating automobile fuel efficiency. Levinson concludes that "efficiency standards are, ironically, inefficient."
I have long been a critic of CAFE standards. Back in 2009, for example, I concluded that Obama's proposed CAFE standards operate as an inefficient stealth tax on driving. It's inefficient because drivers pay more, car companies make less money, and state and federal governments don't get any extra revenues. If activists and politicians want Americans to drive more fuel-efficient cars, the simple and honest thing to do would be to substantially raise gasoline taxes concluded a 2002 National Academy of Sciences report. Ultimately, I argued, setting CAFE standards is just a way for cowardly politicians to avoid telling their fellow citizens that they should pay more for the privilege of driving. If that's what our political leaders think, then they should just be honest and come out in favor of higher fuel taxes.