Missouri's Public Defenders are so Overwhelmed it's a 'Constitutional Crisis'
A new ACLU lawsuit against Missouri is just the latest to expose how poor defendants across the country are effectively denied their right to an attorney.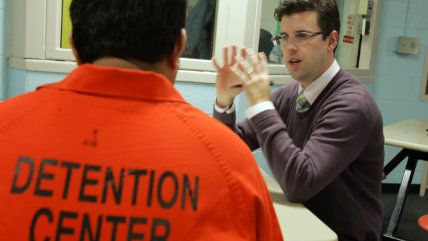 (David Pulliam/MCT/Newscom)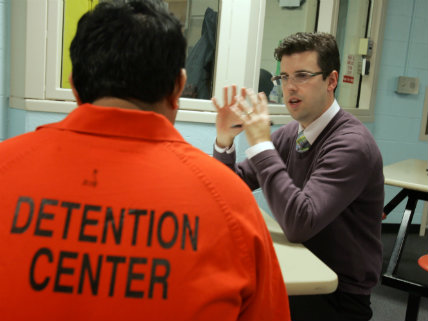 Missouri resident Shondel Church sat in jail for 42 days after being arrested for felony theft in 2016 before he saw a court-appointed attorney. Church had a winnable case, the attorney told him, but there was a problem: It would be six months before the public defender had time to go to trial.
After spending three more months in jail, and looking down the barrel of three more without a job or a way to support his family, Church pled guilty to a misdemeanor charge.
In a federal class-action civil rights lawsuit filed Thursday, the American Civil Liberties Union says cases like Church's are disturbingly common in Missouri, where the public defender system is so underfunded and overburdened that it has created a "constitutional crisis" in the state.
"In jail, you're starving on what they give you and you're dying to get out," Church, the lead plaintiff in the ACLU lawsuit, said in a statement Thursday. "I was hoping things would move faster—but those 129 days cost me a whole lot: I lost all that time working, and I finally had to give up and plead guilty, just to get out and help my family."
As the Miranda rights spiel says: You have the right to an attorney, and if you cannot afford an attorney, one will be provided for you. The Supreme Court established the Sixth Amendment right to an attorney for indigent defendants in the 1963 landmark case Gideon v. Wainwright.
But across the country, civil rights groups say poor defendants often languish in jail without legal representation, and that harried public defenders barely have time to review cases before going to trial. A similar class action lawsuit was filed in Louisiana last month, where civil rights groups say public defenders offices are so underfunded that last year 33 out of 42 of them could not take on new cases or had to place clients on waiting lists. The ACLU is pursuing similar litigation in Utah, California, and Idaho.
The ACLU claims in Thursday's lawsuit that the Missouri State Public Defender Service, which ranks 49th out of 50 in terms of funding, is so inadequate that it violates poor defendant's Sixth Amendment rights to representation. The 370 attorneys working for the service have a load of more than 80,000 cases a year. A 2014 study by the American Bar Association found that in 97 percent of cases, Missouri public defenders failed to meet the ABA's recommended minimum hours to effectively represent their clients.
"For three decades, the state of Missouri has known about the failings of its public defense system," Anthony Rothert, Legal Director at the ACLU of Missouri, said in a statement. "This chronic underfunding has resulted in an equally chronic constitutional crisis in Missouri that has cost the livelihood of thousands of Missourians who are denied justice because their attorneys couldn't devote the necessary time or resources to their cases."
Last year, the director of the Missouri State Public Defender's Office, Michael Barrett, attempted to order former state governor Jay Nixon, a barred attorney, to represent an indigent client. Barrett's move was in protest of what he called ruinous budget cuts to the defenders office.
The Missouri public defender system sued Nixon last July for withholding $3.5 million of a $4.5 million funding increase. Barrett estimated the state would need 289 more attorneys to meet the hours-per-case guidelines recommended by the ABA.
In a statement to Reason on Thursday's lawsuit, Barrett says:
I've done everything short of setting myself on fire to draw attention to the situation that the state has put us in. That poor persons in this state, including poor children, are being pushed through the criminal justice system, fined excessively, and deprived of their liberty, without receiving the benefit of an attorney who has the necessary time to look into their case. Despite their claims of support for liberty and against big government, the state has chosen to neglect an indigent defense system that ranks 49th in the U.S. while enthusiastically spending more than a $100 million in new money on incarcerating the very citizens who were deprived of their right to counsel.

This issue has been studied countless times by numerous task forces, the American Bar Association, a national accounting firm, and the U.S. Department of Justice—all with the same conclusion—that the public defender needs twice its number of attorneys to handle the more than 80,000 cases that it is constitutionally responsible for each year. The state has very few constitutional obligations, but it has instead focused on adding state parks, increasing salaries for judges, and forming committees and task forces to study ad nauseam what we already know. It's time for some leadership.
The Missouri Governor's Office did not immediately respond to a request for comment.