Obamacare Repeal Bill Gets Chilly Reception From GOP Governors, Despite Including Key Medicaid Changes They Wanted
The Obamacare repeal bill landed with a thud, but the idea of pushing more Medicaid decision-making to the state level is likely to stick.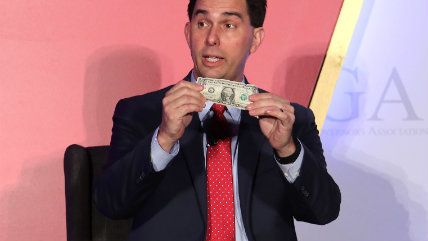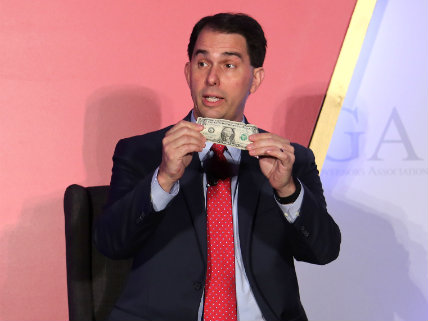 It's telling that even Republican governors are not exactly thrilled with the Obamacare repeal-and-replace bill unveiled this week by House GOP leaders—despite the fact that those governors played a role in crafting the bill, which includes one of their major requests for changing how Medicaid costs are handled.
On a day full of chilly receptions for the repeal-and-replace proposal, Wisconsin Gov. Scott Walker issued one of the few semi-warm welcomes. In a statement released Tuesday, Walker said the GOP health care bill was "an important first step" but called for more work to be done.
"Medicaid reforms in @HouseGOP plan send power back to the states," he later tweeted, highlighting what many Republican governors see as a crucial reform.
Some of his fellow GOP governors were less impressed.
"Right now I am very, very discouraged and disappointed with what House Republicans are introducing," Maine Gov. Paul LePage said told radio station WVOM on Tuesday, when asked about the health care bill. "We don't know what the cost is, but based on what I see and I'm reading and what has happened over the last 15 years, I don't think it's an improvement. I think we're punting the ball, is what we're doing."
In Illinois, Gov. Bruce Rauner, another Republican, said his state "won't do very well under the changes they're recommending," according to the Associated Press.
"I support changing [the Affordable Care Act] but we've got to be thoughtful about it," Rauner said.
The Affordable Care Act is a federal law, of course, but any effort to change or repeal it will impact state budgets in significant ways, mostly because of the joint federal-state funding process for Medicaid, which provides health insurance for the poor. Getting Republican governors on-board with the repeal-and-replace plan is essential, which is why the White House hosted several governors in late February for meeting with President Donald Trump.
"At the end of the day, it's the governors and the states who are going to be implementing this program, so we want to have a big voice in this because we're going to be responsible for actually carrying it out," Nebraska Gov. Pete Ricketts told Fox News last week after meeting with President Trump. "We know best what will work in our states, let us do it. Frankly, what will work in Nebraska may not work in New Jersey."
The proposal unveiled Monday included one major Medicaid policy change intended to give states more flexibility and better control over health care costs.
Under the House GOP proposal, states will get a per capita allotment of federal Medicaid dollars—a pre-set amount of money per person, multiplied by the number of enrollees in the system each year (perhaps with bonuses for more expensive groups like the elderly or people with disabilities). The amount of money would rise and fall with the state-level enrollment figures, but states would be left to decide how best to spend the overall pot of federal cash.
This functions more-or-less like a so-called "block grant," which has been a staple of Republican Medicaid reform plans for years, but with a little twist.
Because some states chose to expand Medicaid under the ACA and some didn't, this per capita approach doesn't specifically reward or punish either option. States with larger Medicaid populations—like those that accepted expansion—will get a larger share of federal cash, but everyone will get the same amount on a per capita basis. There's also a provision to make a one-time payment of $2 billion to states that did not expand Medicaid, meant to smooth out non-expansion states' worry that they would be shortchanged by future funding formulas.
In either case, this represents a major shift in the way the Medicaid is funded by the federal government to the states—exactly the kind of fundamental change that many governors were asking for behind closed doors.
"We should give our state governors the resources and flexibly that they need to make sure that no one is left out," said Sean Spicer, the White House spokesman, on Tuesday. Spicer characterized the House GOP bill as the first step in what would eventually be a three-step process to repeal and replace Obamacare.
Medicaid is a massive portion of most state budgets. On average, it accounts for 25 percent of all state spending, and about 19 percent of state spending when federal dollars are taken out of the picture. It gets more complicated when you drill down into how that spending is divided between states and the federal government. In Fiscal Year 2015, for example, the federal government covered nearly 80 percent of all Medicaid costs in Kentucky, but only a little over 50 percent of all Medicaid costs in Virginia.
Many states are struggling to keep up with growing Medicaid costs as America's population grows older. The Affordable Care Act added to those costs by extending Medicaid coverage—in the 31 states that chose to do so—to able-bodied adults without children who earned up to 133 percent of federal poverty wages (about $11,000 for a single, childless adult). Even though the federal government promised to pick up 90 percent of the cost for those new enrollees, governors who met with Trump in late February said they were worried about the long-term fiscal impact on their budgets.
"We've got to find some sort of system to really transition away from what we've done with the expansion because that's too costly, it's too expensive and get to a point where we've got something that can manage our cost better," Ricketts said last week.
The inclusion of the per capita Medicaid caps wasn't enough to stave off criticism of the House GOP Obamacare repeal plan. Conservative and libertarian think tanks and several key Republican members of Congress said Tuesday they opposed the bill.
The policy shortcomings (detailed here by Reason's Peter Suderman) and political challenges facing the House GOP bill may be too much for it to overcome, but the idea of pushing more Medicaid decision-making to the state level is likely to be part of any future federal health care reform effort, as long as Republicans are running the show.
"I would have liked to have seen more flexibility being given to the states," said Arkansas Gov. Asa Hutchinson, according to the AP. "I'm going to continue to look at that."