A Professor Who Attended Charles Murray's Middlebury Talk Is Now Wearing a Neck Brace. Protesters Attacked Her.
So much for safe spaces.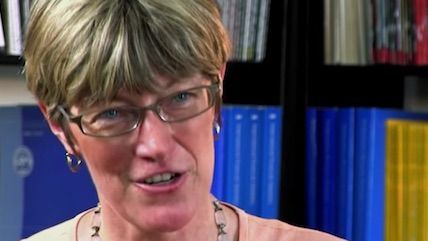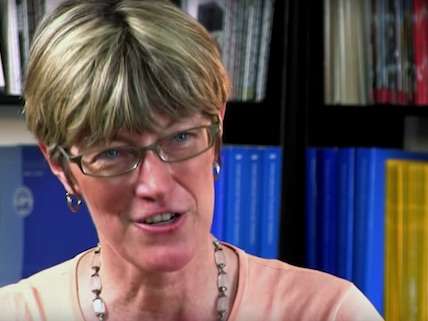 The principle of free speech was not the only thing to suffer injury at Middlebury College on Thursday: a professor was physically assaulted by members of the mob that shut down Charles Murray's talk.
That professor, Allison Stanger, had to go to the emergency room and is now wearing a neck brace.
"One of the demonstrators pulled Prof. Stanger's hair and twisted her neck," Bill Burger, a college administrator, told The Addison County Independent. "She was attended to at Porter Hospital later and (on Friday) is wearing a neck brace."
Hundreds of protesters—at least some of them students—crashed Murray's talk at Middlebury's campus, as I reported earlier. They talked over Murray and accused him of being a white nationalist.
Murray is a controversial figure, but it would be wrong to describe him as a white nationalist. It would also be wrong to presume—as many faculty members did—that there's nothing to be gained from listening to him speak. And of course, it's wrong to disrupt his event and prevent him from speaking.
Attacking a professor because she had the audacity to assist Murray during his harrowing escape from campus is very, very, very wrong.
Faculty members said Murray was guilty of hate speech, and ought to be condemned. Will they condemn the hate actions of the unruly mob that deployed violence against Stanger and Murray? And will Middlebury have the courage to see this through—to identify the protesters, and expel them (or have them arrested), as appropriate?
So much for safe spaces.