Under Georgia Bill, Minors Could Be Tried As Adults for Assaulting Cops
The legislation is part of the larger Blue Lives Matter movement.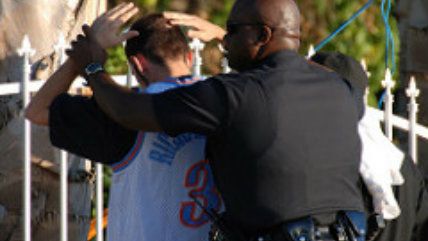 (fourbyfourblazer / flickr)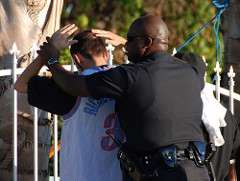 Lawmakers in states across the country are pushing for "Blue Lives Matter" legislation. In that spirit, Georgia could soon make it much easier for juveniles who get into altercations with police to be tried and punished as adults.
The state has recently seen several House and Senate bills introduced that would extend protections for law enforcement. The Back the Badge Act of 2017 rolls several such proposals into a single package; one of those is House Bill 116, which would allow district attorneys to try minors as adults if they're accused of aggravated assault with a firearm or aggravated battery against a public safety officer, the Atlanta Journal-Constitution reports. Georgia law currently says eight different charges can justify moving a juvenile up. The house bill, which was introduced by state Rep. Bert Reeves (R–Marietta), would increase that number.
The bill was inspired by the shooting of Georgia police officer Scott Davis by a 15-year-old gang member, according to the AJC. The case started in juvenile court, and the judge denied the prosecutor's motion to try the teenage suspect as an adult. "Nobody understands how she came to this conclusion," Reeves told the newspaper.
A spokesperson for the county district attorney's office said the judge felt that the minor was "amenable to juvenile treatment." Reeves apparently disagrees. "If you pull a gun on a cop or shoot at a cop, you've sailed beyond juvenile treatment," he said, per the AJC report.
H.B. 116 passed the state House on Monday 130–36. It will move to the Senate despite objections from various criminal justice advocacy groups, including the Georgia Justice Project. The nonprofit organization argues that trying minors as adults is counterproductive, as it increases their chances of re-offending, according to a U.S. Department of Justice National Institute of Corrections report.
"The weight of the research reviewing the public safety impact of sending youth to the adult corrections system has found that youth tried as adults are more likely to re-offend, even when controlling for offense background and other characteristics, than comparable youth retained in the juvenile system," the report reads. "Youth who are transferred from the juvenile court system to the adult criminal system are approximately 34 percent more likely than youth retained in the juvenile court system to be re-arrested for a violent or other crimes."
The report says upward of 250,000 juveniles end up in adult criminal court every year. Every single state has some version of a transfer law, according to the National Conference of State Legislatures.