Sessions Will Recuse Himself, Carson and Perry Confirmed, Rand Paul Tries to Find GOP Obamacare Replacement: P.M. Links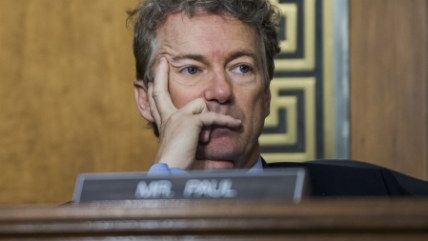 (Tom Williams/CQ Roll Call/Newscom)
Tom Williams/CQ Roll Call/Newscom

Attorney General Jeff Sessions in a press conference this afternoon announced he will be recusing himself from any investigations over the relationship between Russia and President Donald Trump's election campaign. Some Democrats are demanding he resign entirely. Earlier in the day Trump said he had total confidence in Sessions and doesn't think he should recuse himself.

Meanwhile both Ben Carson and former Gov. Rick Perry were confirmed as housing secretary and energy secretary respectively.
Sen. Rand Paul (R-Kentucky) is getting some media attention for trying and failing to get access and make public his own party's proposed Obamacare replacement legislation.
The European Union is considering whether to require Americans to get visas before coming to visit.
The new secretary of the interior, Ryan Zinke, rode to work on a horse today. He probably still managed to get a speeding ticket from the D.C. police.
The California Supreme Court ruled unanimously today that the state's public records laws include correspondence by government officials on government business even when they use private email or personal devices.
If you, like me, don't know why a live feed of a pregnant giraffe keeps showing up on your Facebook wall, here's an explanation.
Follow us on Facebook and Twitter, and don't forget to sign up for Reason's daily updates for more content.