Ferguson Protesters Who Challenged Law Prohibiting 'Interfering With Police' Lose in Court
Circuit court judge rules St. Louis County ordinance to be "not unconstitutionally vague or overbroad."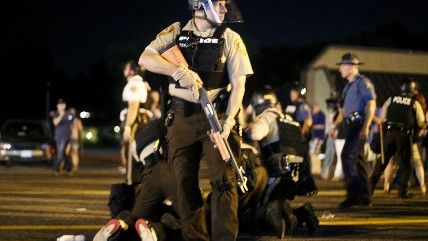 (Jim Vondruska/ZUMA Press/Newscom)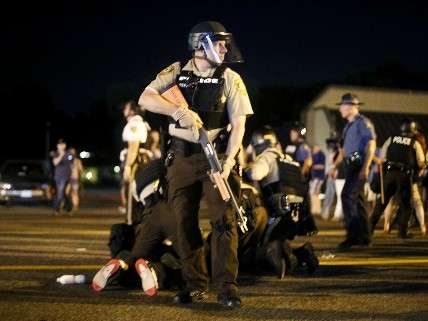 A lawsuit—which could have changed the dynamics of protest in the state of Missouri—failed to convince a circuit court judge that a St. Louis County ordinance banning "any person to interfere in any manner with a police officer or other employee of the County" was unconstitutional.
During one of the protests which followed the 2014 police shooting of Michael Brown by Ferguson Police Officer Darren Wilson, Melissa V. Bennett and Rebecca "KB" L. Frazier were arrested and later charged with violating the aforementioned ordinance. The St. Louis Post Dispatch reports:
The plaintiffs had argued the ordinance was more like a law that the U.S. Supreme Court struck down three decades ago, in Houston v. Hill, which barred interruption of a police officer in his duties "in any manner." In that case, the plaintiff had been arrested after shouting at police who had stopped to talk to his friend. The court found that the law as written gave police broad power to arrest virtually anyone who annoyed them.
Also according to the Post-Dispatch, the citations received by Bennett and Frazier accused them of "walking and standing in the roadway after being warned not to do so by the police officer." Though the charges were dropped, the two women based their lawsuit on the premise that the ordinance was being used by police as "a catchall to ban many activities that are protected under the First Amendment."
This argument did not convince Judge Gloria Clark Reno, who in her ruling wrote:
In the present case, the Ordinance does not proscribe free speech. A person who interferes or obstructs a police officer is not disseminating information. Prohibition of interference and obstruction of a police officer does not abridge constitutional liberty, because such activity bears no necessary relationship to protest.
Judge Reno thus upheld the ordinance's constitutionality by rejecting the plaintiff's claims that the county ordinance was "vague" or "overbroad."
Watch one of Reason TV's great dispatches from the unrest in Ferguson circa 2014 below: