If You're Not Driving, Then You Shouldn't be Liable for Accidents in Self-Driving Cars
Fewer and less destructive accidents also mean lower overall liability costs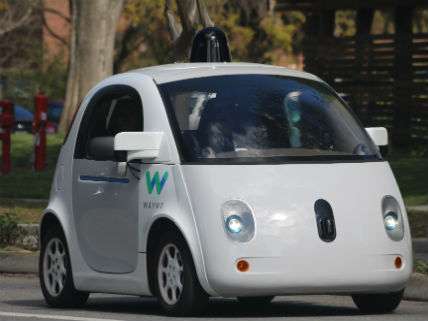 Self-driving vehicles will be safer than human-driven vehicles (if they are not, people won't ride in them). Consider that data show that the the installation of Tesla's autopilot system makes its cars 40 percent less likely to crash than they were previously. So the company is now bundling cheaper liability insurance with its sales prices in some overseas markets. While the advent of self-driving cars will significantly reduce their number, accidents will nevertheless still occur. In such cases, who should be responsible for the damages incurred? Riders should not be since they would have no control over the vehicle. In fact, future self-driving vehicles will not have passenger-accessbile controls like steering wheels or brakes.
In his new law review article, "Automated Driving and Product Liability," University of South Carolina law professor Bryant Walker Smith foresees a "shift from a compensation regime for conventional driving that is largely premised on vehicular negligence to a compensation regime for automated driving that increasingly implicates product liability." Since the "driver" of the vehicle will be the software and hardware installed by the manufacturer, Smith argues that automakers will be held liable in the case of accidents. In fact, Volvo, Google, and Daimler have all already stated that they would accept liability if their technologies are at fault. In addition, self-driving cars will have fewer and less destructive accidents than human-driven cars currently do, so the overall liability costs will less than they are now.
Ultimately, Smith persuasively argues that liability issues are not likely to slow down the introduction of self-driving vehicles.