The NEA Today, Entitlements Tomorrow
Is the OMB's kill list a sign of fiscal seriousness or the opposite?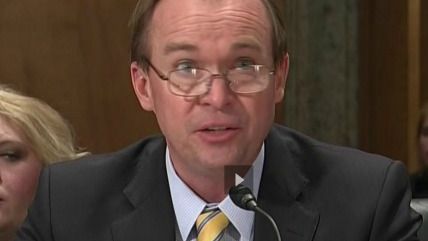 Robert Redford says an Office of Management and Budget memo suggesting the Trump administration might try to eliminate the National Endowment for the Arts is "another example of our democracy being threatened." The actor, director, and independent-film booster explains that "arts are essential" because "they describe and critique our society."
Democracy probably would survive the demise of the NEA, which was created in 1965 and accounts for a tiny share of arts funding in the United States. But by the same token, getting rid of the NEA would have a negligible impact on federal spending, and there are strong reasons to doubt that the president's commitment to fiscal restraint goes beyond such gestures.
Grants from the NEA and every other federal agency that funds the arts account for about 1 percent of revenue received by not-for-profit museums and performing arts groups in the U.S. So even if we arbitrarily exclude money-making enterprises from "the arts," the describing and critiquing of society that Redford values hardly depend on federal largess—a good thing, since it seems unwise to make this subversive function contingent on the good will of politicians.
The NEA's fiscal significance is even slighter: Its $146 million budget amounts to 0.004 percent of federal spending. If we throw in the National Endowment for the Humanities and the Corporation for Public Broadcasting—two other culture-related targets on the OMB's hit list that are favorite targets of conservatives—we are talking about 0.02 percent of federal spending, a barely perceptible bit of skin from a small potato.
According to The New York Times, which reported the highlights of the OMB memo last week, most of the targets have budgets of less than $500 million, "a pittance for a government that is projected to spend about $4 trillion this year." But judging from the examples cited by the Times, the programs on the OMB's list deserve to be zeroed out, since they are either unnecessary (e.g., AmeriCorps, Bill Clinton's attempt to co-opt and take credit for local volunteer work) or positively pernicious (e.g., the Export-Import Bank, which subsidizes deals by big corporations like Boeing, and the Office of National Drug Control Policy, which tries to put a happy face on the government's immoral war against consumers of arbitrarily proscribed intoxicants).
Whether these proposed cuts are a sign of seriousness or the opposite will depend on the Trump administration's approach to big-ticket items. Fortunately, the newly confirmed director of the OMB, former South Carolina congressman Mick Mulvaney, is a fiscal conservative who understands the need for entitlement reform, favors restraint on military spending, and takes a dim view of the grand infrastructure initiatives that Democrats tend to push.
Unfortunately, Mulvaney's boss disagrees with him on each of these points. During his presidential campaign, Donald Trump promised to leave Medicare and Social Security alone, expand an already bloated military budget, and spend as much as $1 trillion on infrastructure improvements.
"I have to imagine that the president knew what he was getting when he asked me to fill this role," Mulvaney told the Senate Budget Committee during a confirmation hearing last month. But he added that "I have no reason to believe that the president has changed his mind from the statements he made during the campaign."
Will Mulvaney go along with the fiscal recklessness signaled by Trump's campaign promises, or will he persuade the president to change his positions? The response to Mulvaney's nomination from supporters of Trump's gratuitous military buildup (which seems inconsistent with the president's complaint that our armed forces already do too much) does not bode well.
Sen. John McCain (R-Ariz.), who has never met a military intervention he did not like, voted against Mulvaney's confirmation, calling him "anti-defense" and accusing him of "pitting the national debt against our military." But no other Republican in the Senate, including hawks such as Lindsey Graham (R-S.C.) and Tom Cotton (R-Ark.), perceived a threat to Pentagon profligacy that was worth mentioning.
© Copyright 2017 by Creators Syndicate Inc.