Cell Blocks Aren't Psych Wards
Even with the best of intentions, using jails to house the mentally ill is a bad policy.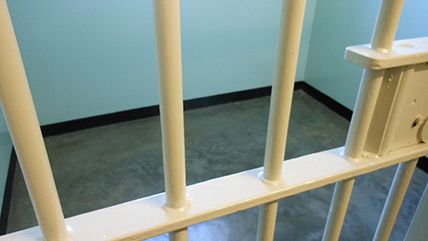 (www.JobsForFelonsHub.com)
In April 2015, Jamycheal Mitchell, 24, was accused of stealing $5 worth of snacks from a convenience store. A Virginia judge ordered Mitchell, who had been prescribed schizophrenia medication, to be sent to a psychiatric hospital, but there were no open hospital beds, so he was put behind bars instead.
Five months later, Mitchell was found dead in his cell at the Hampton Roads jail, 36 pounds lighter and lying in a urine-soaked bed, according to his family.
In December, the Justice Department launched an investigation into civil rights violations in that facility. "All prisoners, including those with mental illness, have a constitutional right to receive necessary medical care, treatment and services," Assistant Attorney General Vanita Gupta, head of the Justice Department's Civil Rights Division, said in a statement.
If the Justice Department intends to hold jails and prisons to those standards, it has many more cases to launch. Across the country, the mentally ill are routinely shoved into cells and denied proper care.
An investigation by the Sun Sentinel in Florida found the Broward County jail's contracted health care provider "left severely mentally ill inmates unmedicated and malnourished, despite having the authority to help them." Seven inmates have committed suicide or suffered extreme weight loss while in isolation at the jail since 2010, the newspaper reported.
There have also been four deaths just since April 2016 in the Milwaukee County jail, run by Sheriff David Clarke—reportedly on Donald Trump's shortlist for Homeland Security chief. One of those inmates was a mentally ill man who died of "profound dehydration."
A Huffington Post investigation found there were more than 800 jail deaths across the country, most of them unreported, from July 2015 to July 2016. About a third of those were suicides.
Ask any corrections official or beat cop, and he'll tell you the system arrests and holds the same troubled people over and over. Even with the best of intentions, using jails to house the mentally ill is a bad policy. When standards are lacking or staffers don't care about their wards, it can be a deadly one as well.
This article originally appeared in print under the headline "Cell Blocks Aren't Psych Wards".