Songs of the Presidents
A playlist for Presidents' Day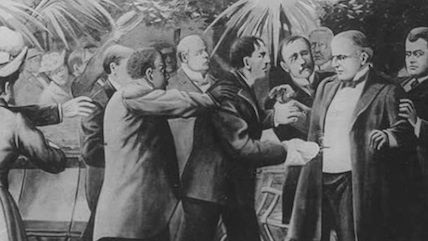 Usually we mark Presidents' Day here with some sort of quiz or game, but this year I thought I'd play DJ instead. Below you'll find some songs about our nation's chief execs, from Washington to Trump. Needless to say, this just scratches the surface of all the presidentially themed music out there; you are encouraged to recommend more tracks in the comments.
George Washington
Cox and Combes, "Washington"
Not safe for work. Possibly not historically accurate in every respect either.
Abraham Lincoln
Camper Van Beethoven, "(I Don't Wanna Go to the) Lincoln Shrine"
An ode to a boring field trip.
Franklin Pierce
The Two Man Gentlemen Band, "Franklin Pierce"
The saddest song on the list, but only if you listen to the words. The same duo did a ditty about Taft too.
James Garfield
Johnny Cash, "Mr. Garfield"
An assassination ballad.
William McKinley
Bill Monroe, "White House Blues"
Another assassination ballad. Vassar Clements later revamped it for the presidents of the 1970s; to hear that version, go here and jump to the 5:00 mark.
John F. Kennedy
Steinski & the Mass Media, "The Motorcade Sped On"
Yet another assassination.
Richard Nixon
Margo Guryan, "The Hum"
From Dallas to Watergate. This was the first of Guryan's trilogy of songs inspired by the Nixon scandals; you can hear her whole trio here.
Gerald Ford
James Brown, "Funky President"
The lyrics defy interpretation, but Brown insists that the song's about Ford.
Jimmy Carter
Blue Mountain, "Jimmy Carter"
Carter gets the heroic-ballad treatment. Strangely catchy.
Ronald Reagan
MDC, "Bye Bye Ronnie"
Reagan has gotten the heroic-ballad treatment too—check this out—but the guy inspired something like 60 percent of the punk records of the '80s; it seems wrong to go with any other genre here.
Barack Obama
Mariachi Aguilas de Mexico, "Viva Obama!"
A bid for the Latino vote. This musical ad from the 2008 Texas primary fascinated me so much that I interviewed an anthropologist about it.
Donald Trump
Ice-T featuring Rhyme Syndicate, "My Word Is Bond"
I'm wrapping up with this one because of the lyric at the 3:39 mark: "Yo Ice, I did a concert in the White House/And after that me and Donald Trump hung out." This record is from 1989, people. The signs were all there; we just weren't prepared to understand them.