Deported for Giving a Handjob?
For some unlucky women, wiping a cop's semen from their massage-table may be one of the last things they do in this country.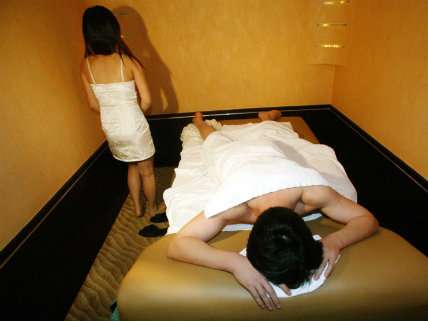 On September 1, 2016, "Sunny" Kimnam gave a massage and a hand-job to an undercover police informant. Since that day, she has been incarcerated, and faces likely deportation to Korea.
Kimnam's story is far from unique. Tucked in tales of "human trafficking investigations" and massage-parlor prostitution busts across the U.S., you'll find that these efforts are almost always aided or led by Department of Homeland Security (DHS) agents. Sometimes it's Homeland Security Investigations (HSI), sometimes the Enforcement and Removal Operations unit of Immigration and Customs Enforcement's (ICE). Since January 1, 2017, DHS has been involved in at least a dozen massage-parlor raids, arresting at least 26 people. Twenty-three of these arrests were women, all Asian and mostly in their 50s.
None were found to be involved in human trafficking, but they were arrested on charges such as prostitution, promoting prostitution, and giving an unlicensed massage. And for those who are immigrants—whether in the country legally or not—it could be just the beginning.
Arrest… But First, Ejaculation
Since at least 2012, Ace Acupressure Spa operated out of the small mountain town of Larksville, Pennsylvania, tucked between a laundromat and a used-car lot in part of town that looks like it has seen better days. Online ads for Ace tout deep tissue massage, care for "frozen shoulder," and remedies for head, back, and neck pain provided by a professional Asian massage therapist. But the placement of these ads (in "adult" and sensual body-rub sections of ad sites) and the images they contain (wholesome-looking but marginally clothed young women) leave little question that the spa's appeal might not rest solely in employees' masseuse skills.
Larksville sits in Luzerne County, a place suggested by Newsweek to hold the key to Donald Trump's election. It's one of those oft-mythologized areas that broke for Barack Obama in 2012 but turned to Trump—by 20 points—in the past election. Newsweek called it "a county of 'Firewood for Sale' signs and volunteer fire departments [and] beautiful views from the tops of mountains." But it's also a place where manufacturing jobs have long been disappearing, more than 20 percent of families with children live in poverty, and the Hispanic population in some areas has skyrocketed in recent years. Immigration enforcement was big on the minds of residents that Newsweek talked to post-election.
The employees of Ace Accupressure—"Sunny" Kimnam and at least two other Korean women—were part of a small minority of Asians and Asian-Americans in Luzerne County—just about 1 percent, according to U.S. census data, and just 0.28 percent in Larksville proper. With the stigma already associated with Asian massage parlors, it's not surprising that Ace attracted local law-enforcement attention. But what's strange (or should be) in this small-time, small-town vice investigation is its orchestration by DHS officials.
Ultimately, just two women were arrested in the operation, Sunny and 55-year-old K. Suk, both Korean nationals. On September 1, Suk had greeted the undercover police informant at the door, led him to a massage room, and collected $60, the price of a standard massage, before leaving the room. The masseuse, Sunny, went on to explain that it would be $60 more "for topless," according to the state's Affadavit for Probable Cause, "and made a hand motion for a hand job."
After starting with a regular massage, Sunny "began to massage the [informant's] penis until he ejaculated," the police affidavit states. He "cleaned himself up and was then escorted out."
About three hours later, police showed up with a search warrant. They found unused condoms and cash, including the cash paid by the informant earlier, and arrested Sunny and Suk, later determining that both had previous convictions for prostitution and both were involved in Ace Accupressure's management. From that day on, Sunny and Suk would remain prisoners in county jail until pleading guilty, in January, to one count each of misdemeanor promoting prostitution.
Immigration's Morality Clause
For U.S. citizens, getting arrested on a misdemeanor charge might not pose an existential threat. But for the women targeted by DHS spa stings, it can upend their whole lives, and it doesn't necessarily matter whether they're actually engaged in prostitution. For those who have entered the country illegally, any encounter with authorities is fraught with deportation danger. Others may be here on valid tourist or student visas but not permitted to work, which means that even giving standard massages to pick up extra cash could be an official immigration infraction, thus triggering their removal. And even legal permanent residents can be arrested, fined, and jailed for up to 30 days if they don't have their green card with them physically when federal agents show up.
Nor do those swept up in ICE's vice stings necessarily have to be immigration scofflaws to face consequences such as deportation. Even legal permanent residents—i.e. "green card" holders—can be "removed" if found to be sex workers. Under the Immigration and Nationality Act of 1965, legal immigrants who have not been naturalized as citizens can become deportable for a variety of reasons, including managing or supervising a prostitution business, transporting someone for the purpose of prostitution, or committing crimes of "moral turpitude"—a nebulous concept defined at various points in immigration law as "conduct that is considered contrary to community standards of justice, honesty or good morals" or "an act or behavior that gravely violates the sentiment or accepted standard of the community."
While federal officials don't release data on how many people are deported for prostitution offenses or other crimes of moral turpitude, local news stories yield all sorts of stories suggesting that for some unlucky women, wiping a cop's cum from their massage-table may be one of the last things they do outside bars in this country. And even when DHS isn't directly involved in an initial sting, immigrant inmates may be held on immigration detainers by police who have agreements with federal authorities.
A 2016 sting on a massage parlor in Macomb County, Michigan, that led to the arrest of five Chinese women on prostitution charges has already led to the deportation of two of the women. Two others are still in custody, awaiting trial. The fifth woman, 50-year-old Meijuan Yu, just recently plead guilty to offering prostitution and was sentenced to two years probation—deferred so that Homeland Security could immediately take her into custody and get started on deporting her back to China.
On February 9, 2017, Homeland Security Investigations teamed up with two county sheriff's offices to raid Donah's Massage Therapy in Winnie, Texas, as part of an undercover investigation they'd been plotting since December. Three women—Song Ja Hyun, 59, Shunyu Quan, 53, and Ying Yu Jin, 53—were arrested and charged with misdemeanor prostitution; Jin was also charged with aggravated promoting prostitution, a felony. As of earlier this week, Hyun and Jin were being held in Chambers County Jail on ICE detainers, according to ABC affiliate 12 News Now.
In Amarillo, Texas, local police and Homeland Security worked "for months" investigating prostitution at the local Touch Spa. The fruits of their efforts? One 60-year-old woman arrested for prostitution in early February. "What we do with Homeland Security on this is standby and wait for them to give us information on what's going on and for them to tell us, hey, we're going to go in and make an arrest at this point," Amarillo Police Officer Jeb Hilton told local News Channel 10.
As for Sunny and Kim, the latter must pay $341 in court fees and is still awaiting sentencing otherwise. Sunny was assessed $513.50 in court fees, and sentenced by Judge Joseph F. Sklarosky at the Luzerne County Courthouse on February 8. As of last week, she remained in the local county jail, awaiting transfer to ICE custody at the nearby York County immigrant detention facility.