Great Balls of Fire, Sun Records Puts on a Show
CMT explores rock's roots, while CBS presents a spinoff to a popular legal drama.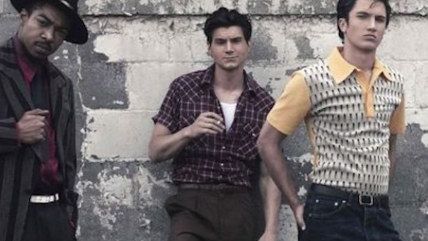 The Good Fight. CBS. Sunday, February 19, 8 p.m.
Sun Records. CMT. Thursday, February 23, 10 p.m.
"All rock 'n' roll came out of Sun Records!" declares Jerry Lee Lewis in the opening moments of CMT's bopping new miniseries. Like a lot of things in Sun Records, it's not quite true, but you'll be too busy dancing to care. Sun Records rocks!
Filling out the early-1950s birth certificate of rock 'n' roll is no easy task. Did the water break in Chicago, where Chuck Berry was underlining his tone poems about the lives of an emerging demographic, the teenagers, with a jangling guitar? Or Philadelphia, where Bill Haley was punching up western swing music with machine-gun saxophone lines? Or West Texas, where Buddy Holly's nerd glasses distracted parents from his ragged cries to their kids to rave on?
Memphis, perched just above the Mississippi Delta at a strategic spot where icy bluesmen and hillbilly shouters were bound to collide, has as good a claim as any of them. And Sam Phillips, owner of the corner-store Sun Records, if not the father of rock 'n' roll, was surely its midwife.
Phillips in 1951 cut what is perhaps the first rock 'n' roll record, Jackie Brenston's Rocket 88 (though fans of Wynonie Harris' 1949 Good Rockin' Tonight will argue the point unto death and beyond). He discovered and signed Elvis Presley, Jerry Lee Lewis, Roy Orbison, Johnny Cash, and Carl Perkins, then eventually lost them all because his mom-and-pop business instincts never rose to the epic level of his artistic vision.
Three generations past the rise of rock 'n' roll, the thrill of its rise—the most exciting cultural revolution in American history—is in danger of being forgotten in an age of fans who don't know who Paul McCartney or Wings are, much less that he was in a band before that. But Sun Records is more than up to the task of its tale.
The 10-episode miniseries starts out in 1951, just as Phillips is turning away from a successful career as a radio-station engineer to concentrate on his bandbox recording studio. Moving away from his bread-and-butter business of taping funerals and weddings, Phillips starts encouraging musical acts he spots in the down-and-dirty clubs along Beale Street, the main artery of Memphis' black nightlife. But his efforts are met with relentless hostility by record distributors, radio stations, parents and even his own wife. "I swear I heard the heavens open up," he exclaims as he plays his newest record for his wife. Sniffs she: "Sounds like the gate to Hell to me."
Intercut with Phillips' story in Memphis are scenes of simmering discontent from a restless post-war generation. In rural Arkansas, a teenage Johnny Cash is trying to escape not only the fields where his parents sharecrop, but the dead-end schools where the three R's are reading, writing and the road to Detroit in hopes of a job on an automobile assembly line. In Louisiana, an adolescent Jerry Lee Lewis and his priapic-TV-evangelist-to-be cousin Jimmy Swaggart are sneaking into whorehouses to ogle the girls and, in the process, inadvertently picking up a thing or two about jump-blues piano.
Back in a public-housing project, shy high-school kid Elvis Presley's cultural tourism is taking the opposite direction: He's slipping away from sermons at his own church to listen to the gospel singing at a black congregation on the other side of town. And in Nashville, Presley's soon-to-be manager, carny barker Tom Parker, has hustled his way from a gig with nickel-a-peek dancing ducks ("You shoot 'em! You eat 'em! You chase 'em around the yard! You see 'em in the pool! But you ain't never seen 'em dance!") to promoting country crooner Eddy Arnold.
The backdrops to the inexorable march of these characters toward a rendezvous with musical destiny are the racially constricted South, still strictly segregated right down to the water-fountain level, and the music industry, locked in its own straitjacket of Perry Como pop, busted-luck hillbilly ballads and monotonous cottonfield blues. Sun Records' nonstop soundtrack makes the point without pedantry; when you hear Patti Page start chirping "How Much Is That Doggie in the Window", its inexplicable two million sales suddenly make a sort of sense: At least it was different.
The cross-pollination of these worlds—black and white; country and blues—that will fuel the civil-rights movement and remake the world of popular music—is already under way. And its challenge to the social rigidity of the milieu in which Sun Records characters live lends the show the tension of a fine suspense movie. When will the explosion come? Who will trigger it? The scenes of Phillips in the studio, punching up the sax or the bass to make a record pop, or Jerry Lee Lewis and Swaggart sitting together to play the piano with four hands, trying to replicate the sound they heard in a bar, are graphic representations of the tangible creative thrill of rock and roll.
The best of them is a session with Ike Turner's scuffling Delta blues band, a dazzling concoction of outside-the-music-box thinking and delicious serendipity. A broken speaker gives the band's guitars a jagged edge that another producer would have removed, but Phillips kept. And then, out of the blue sky, he shoves Turner away from the mike and turns it over to the sax player, Jackie Brenston. And thus is Rocket 88 born.
That scene is a fairly accurate description of what really transpired in the Sun studio that day. The same cannot be said for much of Sun Records, which is based not on any of the many historical works about Sun or its artists but on the jukebox musical Million Dollar Quartet, a wildly fictionalized account of an evening in 1956 when Presley, Cash, Lewis, and Perkins more-or-less accidentally ran into one another at Sun and held an impromptu jam session.
The book for Million Dollar Quartet was written by Collin Escott, author of two Sun histories, and Floyd Mutrux, who directed American Hot Wax, a film about deejay Alan Freed that's probably the best movie ever made about rock 'n' roll. They're still present on Sun Records, writing some of the screenplays.
Their looseness with the truth was an artistic necessity in Million Dollar Quarter, in which they were using a single encounter of Phillips and four of his stars as a lens through which to examine a decade's worth of history. It's far less justifiable in a 10-hour long miniseries. At best it's pointless: Why change Elvis' failed tryout for his high school football team to basketball? Or turn Phillips' talented radio-announcer wife Becky into a stay-at-home spouse who takes in sewing from the neighbors? At worst, it's character assassination. Elvis' father Vernon was not a belligerently racist bully but a quiet and somewhat ineffectual man who by all accounts dearly loved his son. Tom Parker was indeed fired by Eddy Arnold, but all the available evidence is that it had to do with personality clashes, not Parker taking secret kickbacks from writers to get Arnold to record their songs.
Some viewers—particularly Presley fans, who study their idol's history with the fervid devotion of Biblical scholars—will likely be at least a bit put off by Sun Records' tangential detours from reality. But most will be able to put it aside, because Sun Records is just too damn much fun to watch to get hung up in the details. The stories are magnetic, and so are the performances.
The finest comes from Chad Michael Murray (ex-teen hunk of One Tree Hill and Gilmore Girls) as Sam Phillips, whose single-minded pursuit of the sound he heard in his brain edged up to the line of madness and sometimes beyond. (His series of stays in psychiatric hospitals ended in voluntary shock treatments.) Murray inhabits each of Philllips' many selves—gentle family man, philandering dog, rock and roll maniac—with perfect comfort. And he nonetheless keeps having scenes stolen by Billy Gardell (Mike & Molly) as the merrily conniving Parker and Keir O'Donnell (Fargo) as the crazed Memphis deejay Dewey Phillips, whose shouted on-air promise that "I am right here 'til the police come!" sounded altogether plausible to his audience.
Presley (Drake Milligan), Cash (Kevin Fonteyne) and Lewis (Christian Lees) are all played by young and relatively unknown actors, each of whom delivers a full performance rather than an imitation. They also do their own singing. The only one heard at any length in the four episodes CMT provided for review is Milligan, who sounds eerily like Elvis. Reportedly, he made an unannounced stop at the network offices one day to perform a Justin Bieber song as Elvis. Watch for it in the Sun Record sequel, Elvis: The Psilocybin Years.
For another glorious trip through yesteryear, tune into CBS' The Good Fight. (The first episode airs on the network; after that, it moves to CBS All Access, the network's new digital pay channel.)
"Yesteryear" in this case is 2016, when the political-legal drama The Good Wife left the air after seven popular and critically acclaimed seasons. CBS is billing this as a spinoff, but it's really just a continuation of the original show, minus star Julianne Margulies, who played the title character. This is not a criticism. This is one case where "same old, same old" is grounds for applause.
Margulies, playing a political wife humiliated by a Clintonesque sex scandal who must pick up her legal career where it left off two decades earlier, was a powerful tentpole for The Good Wife, reducing everyone around her to supporting roles even in their biggest moments. The obvious question in reviving the show was, how do you fill that gaping hole?
CBS found an answer, a very good one. Christine Baranski, who played one of Margulies' legal colleagues in The Good Wife, has taken over as the lead character. A year after the events in the previous show, her character Diane Lockhart—once a powerful Chicago attorney and Democratic Party official who was bound for the Illinois supreme court—is completely crushed. Her marriage crumbled over her husband's adultery, she lost all her money in a Madoff-style Ponzi scheme, and enemies among her partners have ousted her from her law firm. Hat in hand, she's joined a smaller and otherwise all-black firm where most of the other lawyers regard her as a white establishment goon. Like Margulies' character, she's trying to rebuild a self from shattered shards.
For Baranski, who arrived to her second-banana job on The Good Wife through a career in comedy (notably as Cybill Shepard's drunken socialite sidekick in Cybill), this is the role of a lifetime, and she responds with the performance of a lifetime. When, after her latest catastrophe, she screams, "How is my life suddenly so fucking meaningless?" the rage and pain are palpable.
That sentence, by the way, represents about the only real change from Wife to Fight. Freed of the tethers of the FCC by its flight to the digital world, The Good Fight has expanded its vocabulary of four-letter words and added bare butts, lesbian shower scenes and other accoutrements of post-Ozzie and Harriet life. Much of the rest of the cast has returned, as have executive producers Robert and Michelle King, whose experiment with a show about brain-eating bugs running amok in Washington was quite popular with intelligent critics but much less so with viewers. Maybe the bugs will make a guest appearance; in a world where a guy can sue because fashion models, unlike the ones in the TV commercial, didn't bang him after he drank a case of Bud Light, a class-action suit over the dietary insufficiencies of politicians' brains seems downright reasonable.