National Security Pick Declines Trump's Offer, ICE Narrative Questioned, Tony Blair Urges Brexit Resistance: A.M. Links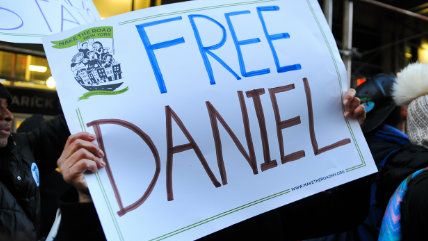 (Luiz Roberto Lima/ANBNews/newzulu/Newscom)
Luiz Roberto Lima/ANBNews/newzulu/Newscom

Immigration lawyers and activists "have pointed to a sharp discrepancy between what ICE says it is doing and what immigrant families are seeing and reporting in cities across the nation," The Washington Post reports.

In Seattle, 23-year-old Daniel Ramirez Medina—twice-authorized under the Deferred Action for Childhood Arrivals program but arrested by immigration agents last week—has filed a lawsuit accusing the government of falsely asserting that Medina belonged to a gang in order to place him in the gang unit of Tacoma's Northwest Detention Center.
Former U.K. Prime Minister Tony Blair urged anti-Brexit Britons to "rise up in defense of what we believe."
Vice Admiral Robert Harward told Donald Trump's thanks-but-no-thanks on becoming a national security adviser.
"Today, we make clear, in Florida, any law that implicates the fundamental right of privacy, regardless of the activity, is subject to strict scrutiny and is presumptively unconstitutional," said the state's Supreme Court in a ruling blocking a requirement that women see a doctor twice before getting an abortion.
A Prince George's County, Maryland, police officer is accused of assaulting a homeless woman while on duty.
Follow us on Facebook and Twitter, and don't forget to sign up for Reason's daily updates for more content.