Donald Trump Doesn't Care If Israel and the Palestinians Make Peace
With an off-hand remark, the president indicates the status quo of U.S.-supported Israeli occupation is fine with him.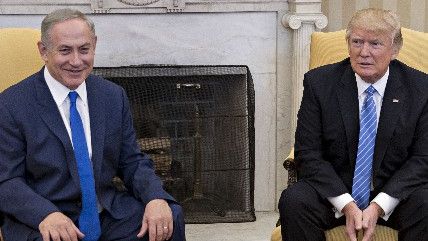 (Andrew Harrer/ZUMA Press/Newscom)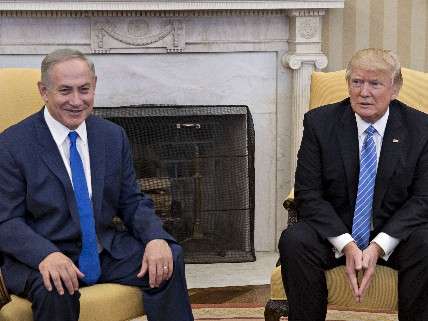 We've long known that President Donald Trump has no filter, yet his every utterance now carries the weight of U.S. policy behind it. That's why one of Trump's signature flippant remarks at a joint press conference yesterday alongside Israeli Prime Ministery Benjamin Netanyahu was so extraordinary.
With a few sentences, Trump appeared to have changed the policy embraced by the past two American presidents from supporting the "two-state solution"—a contiguous democratic Palestinian state made up of land in the Gaza Strip and West Bank, living in peace beside the Jewish state of Israel—to a more vague policy resembling indifference.
Trump said:
So I'm looking at two-state and one-state and I like the one that both parties like…I'm very happy with the one that both parties like. I could live with either one. I thought for a while that two state looked like it may be the easier of the two, but honestly if Bibi and if the Palestinians, if Israel and the Palestinians are happy, I'm happy with the one they like the best.
This is either startling naivete, ignorance of the tortured 50-year history of Israel's occupation of the West Bank and the many U.S.-led negotiations to bring about an end to that occupation, or simply something Trump hasn't thought through but popped off on the subject anyway. Regardless, anyone with even a rudimentary understanding of the Israel-Palestine conflict knows that getting both parties to be "happy" with any final agreement has long proved fruitless.
A single state made up of Israel and the occupied territories that includes full citizenship and voting rights for Palestinians would immediately end the idea of a "Jewish state." So that's a non-starter for most Israelis. Yet, a single state where the Palestinians lack self-determination is by definition an apartheid state.
So if a two-state solution is the only solution, and Netanyahu demands (as he did yesterday standing beside Trump) that "in any peace agreement Israel must retain the overriding security control over the entire area west of the Jordan River," then Israel continues to occupy the majority of the nominal Palestinian state and we're right back where we started.
For Trump to shrug off the gulf between the status quo and what it would take for the U.S. to help faciliate a lasting peace—which every president since Jimmy Carter has failed to do—by saying "I could live with either one," implies Trump won't ask much, if anything, of the Israelis and Palestinians to make what Trump once called "the ultimate deal."
In the relatively early days of the 2016 Republican presidential campaign, Trump distinguished himself from both fellow Republicans and the very pro-Israel Democrat Hillary Clinton by promising to be "sort of a neutral guy" while leading Mideast negotiations. After taking heat from candidates of both parties, Trump walked his neutrality back about a month later, telling CNN, "I would love to be neutral if it's possible. It's probably not possible because there's so much hatred."
But neutrality has long been the official U.S. policy toward the negotations, even if U.S. military aid to Israel dwarfs the amount given to all other countries. Trump being pressured on the campaign trail to abandon that posture demonstrates that all of America's foreign policy and political issues are not exclusively the fault of Donald Trump.
Shortly before leaving office, President Barack Obama increased U.S. military aid to Israel from $3.1 billion to $3.8 annually, a deal which is locked in for 10 years. The deal removed a previous provision allowing Israel to spend about a quarter of that aid on companies within the Israeli defense industry, meaning all of those billions in U.S. government aid to Israel will now come right back to United States as a subsidy to the U.S. miliary industrial complex.
While this aid to Israel didn't include the "strings attached" like the ones the U.S. applied to its aid to Egypt and Jordan—which were meant to encourage and maintain those countries' peace treaties with Israel—the U.S.-Israel relationship has always included the expectation that Israel would continue to take meaningful steps toward a solution that ends the occupation and creates a lasting peace—even if they have rarely had reliable negotiating partners on the other side of the table.
If the policy of the Trump administration is that it has no position on whether or not a Palestinian state is created, it is essentially de facto U.S. support for indefinite Israeli occupation. And while this might please the Jewish settlers in the West Bank and the hard-right members of the Knesset who make up a hugely influential part of Netanyahu's coalation, the status quo is untenable for Israel, which risks legitimately being called an apartheid state if the two-state solution is truly dead.