Refugee Rape Mobs on New Year's Eve Were a Hoax, Say German Police
Reports of mass New Year's Eve sexual-assaults by refugees in Frankfurt, Germany, are "completely baseless."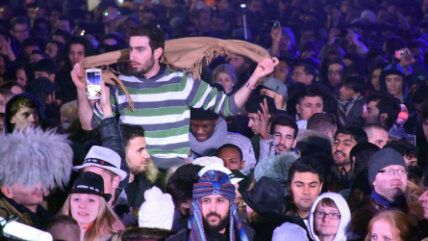 (SKA/HSS/AEDT/WENN/Newscom)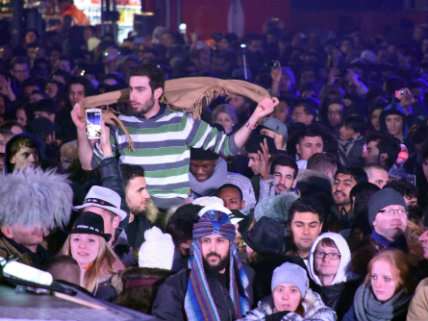 According to German tabloid Bild, a "rioting sex mob"—composed largely of Arab refugees—wreaked havoc on the city of Frankfurt during this year's New Year's Eve celebrations, groping and sexually assaulting dozens of women. The story quickly made an international splash. Now police say it's "completely baseless," an invention of Frankfurt restaurant owner Jan May and a woman identified as Irina A.
The original report claimed that at least 50 men, mostly thought to be refugees from Middle Hessia, overtook May's restaurant and others in a shopping area of Frankfurt known as the Fressgass. The men allegedly began robbing patrons, reaching under women's skirts, and worse in a sexual-assault free-for-all.
On Tuesday, Frankfurt police confirmed to the Frankfurter Rundschau that Irina had not even been present in Frankfurt on New Year's Eve. And interrogations of other witnesses led police to doubt the story in its entirety. They now believe the accusations were "without foundation" and "there were no… attacks by masses of refugees."
"Masses of refugees were not responsible for any sexual assaults in the Fressgass over New Year," police said, according to English-language Euro paper The Local. "The accusations are completely baseless." May and Irina are currently under investigation by police for making up the incidents, the paper says.
Meanwhile, Bild—a publication accused by Germany's left of routinely stoking anti-immigrant sentiment—published a statement on its website Tuesday saying the paper "apologizes expressly for the untruthful article and the accusations made in it. This article in no way met the journalistic standards of Bild." On Twitter, Bild Editor-in-Chief Julian Reichelt apologized and said there would be consequences at the paper.