Bad News: The Government Wants to 'Help' Driverless Car Companies
The future is rushing toward us. Unfortunately, the government wants to help.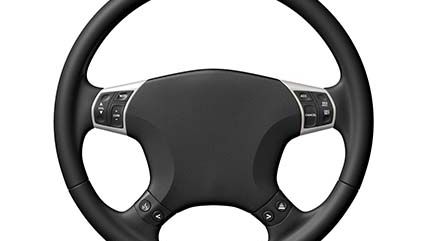 Google's parent company, Alphabet, revealed in December that an unaccompanied blind man had successfully traveled around Austin, Texas, in one of the company's cars, which had neither a steering wheel nor floor pedals. That same month, Alphabet announced that it is spinning off its self-driving vehicle technology into a new division called Waymo. Also in December, Uber launched an experimental self-driving ride-sharing service in San Francisco.
The future is rushing toward us. Unfortunately, the government wants to help.
In the case of Uber, the California Department of Motor Vehicles (DMV) was so eager to help that it ordered the company to shut down its service, declaring that its regulations "clearly establish that an autonomous vehicle may be tested on public roads only if the vehicle manufacturer, including anyone that installs autonomous technology on a vehicle, has obtained a permit to test such vehicles from the DMV."
Anthony Levandowski, head of Uber's Advanced Technology Group, responded by observing that "most states see the potential benefits" of self-driving technology and "have recognized that complex rules and requirements could have the unintended consequence of slowing innovation." By refraining from excessive regulation, added Levandowski, these jurisdictions "have made clear that they are pro technology. Our hope is that California, our home state and a leader in much of the world's dynamism, will take a similar view." Uber moved its self-driving fleet to Arizona.
The U.S. Department of Transportation (DOT) likewise wants to "accelerate the next revolution in roadway safety"—so in September, naturally, the agency issued a 116-page Federal Automated Vehicles Policy that outlines a 15-point design and development checklist applicable to the makers of automated cars. In case that was not enough help, the agency then issued a 392-page Notice of Proposed Rulemaking to mandate that all new light cars talk to each other using a very specific vehicle-to-vehicle (V2V) technology.
Instead, these rules are likely to slow down innovation and development. Compliance with the agency's 15-point safety assessment is supposedly voluntary, but woe betide any company that fails to file the proper paperwork. Even more worrying, the DOT is calling for a shift from the current regime, in which automakers self-certify that their vehicles meet safety standards, to a system where the agency tests and approves the product before it can go to market. This would bring all of the speed and efficiency of the federal government's drug approval process to the auto industry.
Plus, as Competitive Enterprise Institute researcher Marc Scribner points out, the safety benefits of the V2V mandate "will be trivial for the next 15 years, at which point far superior automated vehicle technology may be deployed to consumers." Self-driving cars equipped with autonomous collision avoidance technologies will likely provide all of the supposed benefits of V2V communications—and do it sooner. If the incoming Trump administration really wants to help, it'll get Washington out of the way and withdraw these two proposed rules.
This article originally appeared in print under the headline "Bad News: The Government Wants to 'Help' Driverless Car Companies".