Not Off the Grid, But We Can See the Edge From Here
One family stumbles toward quasi-self-reliance.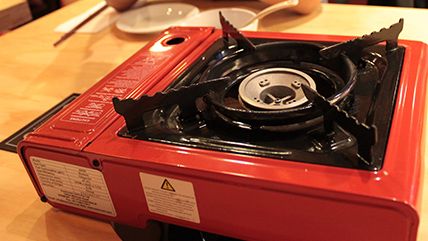 (www.flickr.com/photos/tristankenney/)
Cottonwood, Arizona—Our power went out for the better part of a week in 2008 after a particularly nasty storm. It failed quite frequently when we lived in our previous house at the end of a dirt road in Cornville, a few miles from our current locale. That might have had something to do with our remoteness, or the extreme weather in the state. Or maybe it was the local tradition of crashing pickup trucks into desiccated wooden utility poles and knocking them over.
During a blackout, having your own well isn't necessarily as independence-enhancing as you might think—not when the pump requires electricity and the surface of the water is far too low to dip some out by hand. Then you have nothing but a steel well cap to meditate upon as you consider the requirements of coffee pots and modern plumbing.
Unless you're prepared.
Because outages were common, we had stored water, cut firewood, and fueled up the camping stove and lanterns. We remained hydrated, warm, and fed through that and every other experience with the electric grid's fragility. All in all, it was a bit Little House on the Prairie for our tastes, though with a better wine selection—but ultimately more of an inconvenience than a disaster.
But tolerance for inconvenience can decline with the years.
"We need a way to keep the air conditioning on if the power goes out," my wife told me when we moved to our new house in the foothills. Wendy had reached a point in life marked by the occasional mood swing and extreme temperature sensitivity, and she made it clear that maintaining a climate-controlled environment in the house through all scenarios that nature or man might send our way was a non-negotiable requirement.
This being Arizona, where everything bakes for much of the year under the fireball in the sky, my first thought was solar. But I quickly discovered that all of those panels adorning people's roofs were nothing more than expensive shingles during a power outage. Most solar installations are designed to feed the grid, not keep you independent of it. I priced adding batteries to the mix to gain some autonomy, but they more than doubled the cost. And batteries couldn't handle the power demands of an air conditioner anyway.
So we settled, if that's the right word, for a 22 kW standby generator, which can handle the well pump and keep the air conditioning running. We were especially pleased with our decision when in October the European Union completed a coordinated cyber-attack simulation and found it leading to a "very dark scenario" including crashed power grids.
I also beefed up our water storage with rain barrels hooked to the gutters. Now, when the wet stuff falls from the sky, I capture it before it runs off into the desert. The barrels are conveniently located near the garden, which is handy for watering the food I've taken to growing. In fact, we're dining tonight on pesto made with our own basil, mint, parsley, and San Marzanos (yes, tomatoes—we make the Sicilian variety of pesto, not that bland Genoese slop). The olive and fig trees were coming along nicely, too, until the wild javelinas chomped on them. They're definitely a long-term project; I'll try again next year.
Wendy and I have stumbled down our path incrementally over the years out of a combination of necessity and curiosity. But our journey to (partial) self-reliance seems to be setting a tone for our son. Recently he declared that he'd like to go hunting—his first time.
I breathed a genuine sigh of relief when he said he wanted to start with rabbits rather than going straight to deer, which are harder for me to bag than might be the case for more, well, competent hunters. Rabbits, on the other hand, are easy. And they taste good with the wine from our cellar and the herbs from our garden.
We also keep tweaking our set-up. In addition to the generator, I'm putting together a smaller-scale solar power system. That fireball in the sky isn't going anywhere, and I want to get some use from the thing. I'm picking up a few panels, a few batteries. I doubt I'll manage to put together a system that can handle the well pump, let alone the air conditioner, but maybe we'll be able to power a refrigerator. We can always stick our heads in there to cool off in a pinch.
This article originally appeared in print under the headline "Not Off the Grid, But We Can See the Edge From Here".