Mike Flynn Volunteers His Scalp to the Deep State
Who the hell is really running Washington? Explore the topic on tonight's Kennedy at 8 p.m. ET on Fox Business Network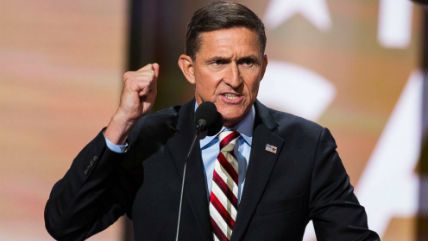 If you're not watching Kennedy (Fox Business Network weekdays 8 p.m. ET, with repeats at midnight), you are missing some important and still-too-rare libertarian analyses of the daily news insanity we all live in. Earlier today I linked to the eponymous host's revealing interview yesterday with Sen. Rand Paul (R-Ky.) about Obamacare-replace and his libertarian critics; on the same broadcast she also interviewed the great Rep. Thomas Massie (R-Ky.) on his one-sentence bill to eliminate the Department of Education. You can watch that here:
Tonight's program, as you would expect, is filled with discussion about the resignation/firing of National Security Advisor Mike Flynn in the wake of intelligence-community leaks showing that he lied to the American people and Vice President Mike Pence about the contents of a late-December phone conversation with the Russian ambassador to the United States. Was it really only one month ago that I was on Kennedy talking about Donald Trump's shockingly open war with the IC? The resignation of Flynn—brazen and sloppy prevaricator/hysteric though he be—raises all kinds of additional uncomfortable questions about the Deep State and its tactics.
I am on the Party Panel tonight with Wall Street Journal U.S. Editor Glenn Hall and comedian/podcaster Ben Kissel, talking about the Flynn fallout, Trump's approval ratings, Playboy's return to #AlwaysNude, and various Valentine's Day strategies. Other people commenting on the Flynn situation include Judge Andrew Napolitano and radio commentator/Iraq War vet Bryan Suits. The host will also celebrate Feb. 14 by talking about the morality/philosophy of assisted-suicide regulation with Jonathan Hoenig! Meanwhile, tomorrow's show is tentatively scheduled to include a certain black-wearing libertarian….