U.S. Military Veterans Can Still Face Deportation
Donald Trump said during campaign that undocumented veterans are a "a very special situation," but his executive orders don't exempt vets from deportation.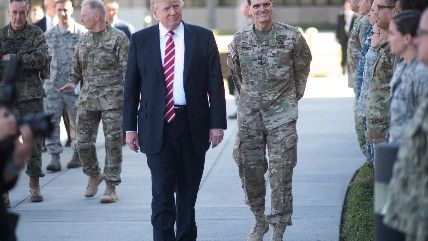 (Myles Cullen/ZUMA Press/Newscom)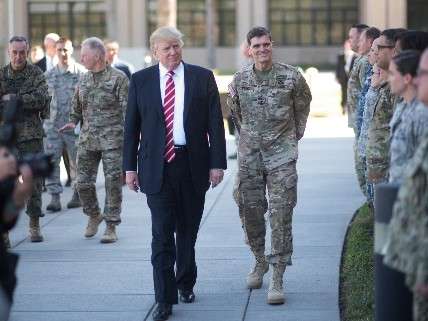 President Donald Trump made it plenty clear as a candidate that he intends to crackdown on undocumented immigrants and his early executive orders have proven, in that regard, he's a man of his word. But Trump also indicated that he'd make an exception for undocumented immigrants who have served in the U.S. military.
At last September's Commander-in-Chief forum, Trump said, "I think that when you serve in the armed forces, that's a special situation, and I could see myself working that out. Absolutely." He added, "If they plan on serving, if they get in, I would absolutely, for all of those people. Now, we have to be very careful, we have to vet very carefully, everybody would agree with that, but the answer is it would be a very special circumstance, yes."
But nothing in Trump's executive orders on immigration enforcement makes any mention of a special exemption for military veterans, and there are no safeguards in place to prevent legal permanent residents who have served in the military from being deported—even for non-violent crimes, thanks to the The Illegal Immigration Reform and Immigrant Responsibility Act of 1996, which made certain misdemeanors into deportable offenses.
Some veterans advocacy groups met with members of the Congressional Hispanic Caucus on Capitol Hill earlier this week to push for a clearer path to citizenship for immigrants who serve in the armed forces, as current policy remains typically confusing and cumbersome. There are approximately 35,000 non-citizens actively serving in the U.S. military, with about 8,000 new volunteers joining annually.
Introduced in 2009, the Naturalization at Basic Training Initiative is intended to give legal residents "the opportunity to naturalize when they graduate from basic training," but NBC Bay Area reports, "Even with that new provision, those volunteering to serve in the military must still apply for citizenship. Many veterans told us that frequently recruits aren't informed and don't realize they need to take that extra step of actually applying."
This is how certain veterans, many of whom struggle with emotional issues and drug dependencies after experiencing the trauma of combat, end up being kicked out of the only country they've ever known. Immigration and Customs Enforcement (ICE) doesn't keep track of such statistics, but the ACLU found over 300 known cases of military veterans being deported, which was documented in a report last year.
In a particularly cruel and ironic policy twist, honorably discharged service members who have been deported are legally entitled to a U.S. military funeral and burial—with full honors.