Betsy DeVos Blocked from School, Trump's Lonely Home Life, Miami Marlins For Sale: P.M. Links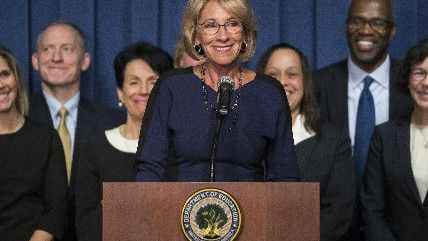 SHAWN THEW/EPA/Newscom

Education Secretary Betsy DeVos was physically blocked by protesters from entering a Washington, D.C., school.

President Donald Trump lives a sad, lonely existence in "government housing," a.k.a. The White House.
Houston mayor Sylvester Turner is unfazed by the Trump administration's threats against sanctuary cities, says "Mi casa es su casa."
University of California-Irvine's dean and chancellor write that UC-Berkeley administrators did the right thing in defending Milo Yiannopoulos' invitation to speak on campus, and they also did the right thing in cancelling the event once the campus became unsafe.
In a sad sign of the times, Paris plans to install a "permanent bulletproof glass wall" around the Eiffel Tower.
Miami Marlins owner Jeffrey Loria—widely regarded as Major League Baseball's worst owner—is reportedly considering selling the team for over $1.6 billion. Ivanka Trump's father-in-law is reportedly among those bidding for ownership of the franchise.