Trump Releases Law Enforcement Executive Orders, General Wants More Troops for Afghanistan, Have You Heard About Ivanka's Products Lately? P.M. Links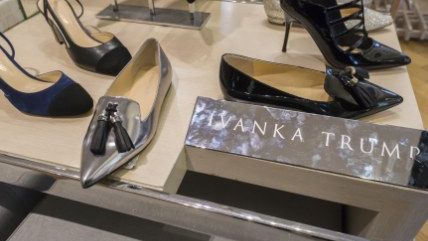 (Richard B. Levine/Newscom)
Richard B. Levine/Newscom

President Donald Trump signed a trio of "law and order"-focused executive orders today after Jeff Sessions was sworn in as attorney general. They're mostly just declarations that Trump wants the feds to be more active in fighting transnational drug rings, protecting the police, and enforcing federal law. But he also wants federal law enforcement to play a larger role in helping local police crack down on crime and calls for a possible new federal law to punish those who target law enforcement for violence.

Trump's first real test on whether he actually wants to restrain military involvement overseas might have just arrived. The commander of U.S. troops in Afghanistan told a Senate panel today he needs more boots on the ground—thousands of them.
Meanwhile, everybody is up in arms today over White House spokesperson Kellyanne Conway encouraging people to go buy Ivanka Trump's products at Nordstrom, which is likely a violation of federal ethics rules.
If you're a veteran and all this White House drama is freaking you out, a clinical trial evaluating whether marijuana can help treat Post-Traumatic Stress Disorder has officially started.
Conservative farmers in central California voted for Trump thinking he was maybe exaggerating how serious a crackdown he was going to implement against illegal immigrants. Now they're worried that he was not and what that means for finding field workers.
"Indiana Governor pardons wrongfully convicted man passed over by Mike Pence."
Follow us on Facebook and Twitter, and don't forget to sign up for Reason's daily updates for more content.