Puzder Confirmation Hearings Move Closer, Texas Asset Forfeiture Reform Legislator Not Discouraged by Trump Attack Offer, Obama Goes Kite Surfing: P.M. Links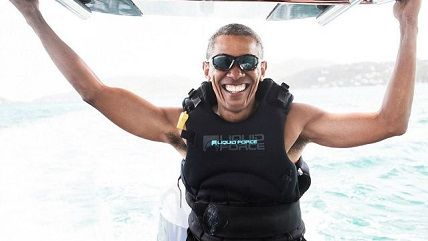 (Jack Brockway/Virgin.com)
Jack Brockway/Virgin.com

The Senate labor committee has received ethics paperwork on Labor Secretary nominee Andy Putzer, so confirmation hearings could be scheduled soon. The White House press secretary said President Trump had every right to stand up for his family after Trump tweeted that Nordstrom's was treating his daughter Ivanka, who he said always pushed him to "do the right thing," unfairly. Spicer insisted it was "unacceptable" to take out concerns about Trump's policies on family members.

Texas State Sen. Konni Burton (R) said Trump's comment to a sheriff opposed to asset forfeiture reform would not discourage her efforts. Another senator who sponsored a bill, Democrat Juan Hinojosa, said he did not think the sheriff, for whom Trump offered to destroy the career of an asset reform advocate, was talking about him because he'd never heard of the sheriff before.
A man in Chicago who was shot five timed during a 2015 traffic stop is suing the city and the officers, accusing the police department of dragging its feet on discipline after the shooting was ruled unjustified.
The chairman of the Standing Rock Sioux tribe says they are running out of options to block the Dakota Access Pipeline.
Suspected ISIS gunmen killed at least four Red Cross workers in Afghanistan.
The former prime minister and dual national U.S. citizen Mohamed Abdullahi Farmajo won the limited franchise presidential election in Somalia.
A Russian court has barred opposition leader Alexei Navalny from running for president in 2018 after he was convicted in a retrial of a 2013 case.
Barack Obama is done with you people.