Trump's Belief That Terrorist Attacks Have Been Concealed Has Implications Beyond Media Feud
Scaring people to discourage support for due process constitutional protections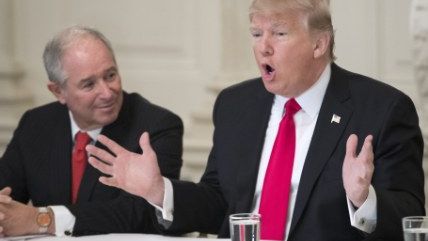 (Michael Reynolds/EPA/Newscom)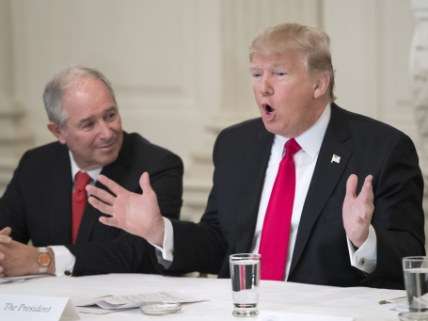 Today in eye-popping comments by President Donald Trump: In a speech at MacDill Air Force Base in Tampa, Florida, Trump said terror attacks have gotten so bad that the media is not reporting it. This is a deliberate choice by the media, he seems to argue, to mislead people. From The Hill:
"It's gotten to a point where it's not even being reported," he told a group of senior commanders. "And in many cases, the very, very dishonest press doesn't want to report it."

The president implied that media organizations have an ulterior motive to bury coverage of the attacks. "They have their reasons and you understand that," he said.

Trump provided no evidence to back up his comments. Terror attacks both at home and abroad often spark blanket coverage on cable news networks, newspapers and online outlets.
These comments are immediately being cast as the latest salvo in Trump's war on the media. Stephanie Slade noted this morning Trump's Twitter blitz against negative polls that indicate popular opposition to his leadership so far.
While Trump's obsession with the media's portrayal of him may have influenced these comments, it's probably more important to take a step back and take a look at the bigger picture here. We should worry less about the implications on a free press here and more about the implications on other civil liberties.
Trump has consistently argued that the world is much more dangerous than the data represents to those who pay attention. The White House website pointed out its law enforcement section that murders jumped 50 percent in in 2015, but ignored that they dropped in 2016. His immigration crime and terror fear-mongering is heavily influenced by the idea that there are unforeseen threats.
Trump's response to having his executive action overruled as an abridgement to due process is to claim that the judge responsible is putting "our country in such peril." If something "bad" happens (and something bad is ultimately going to happen at some point because security is not a perfectible thing), he says it will be the judge's fault. Damon Root noted on Sunday Trump's attack on judicial review.
Trump is using a belief that the world is hostile, violent, and dangerous to justify measures that ignore the constitutional restraints that give people protection from too much government power. To insist that we are in danger is to give credence to an argument that we must take any measure to become more safe, protections of the Fourth and Fifth Amendment be damned.
The data doesn't support the argument that the United States is in an increasing amount of danger. Implicating the press as having an active, conspirational role in concealing threats is a way to rhetorically get around that barrier.
Ironically, many Americans believe they're in more danger of crime than they actually are and that's because the media covers violent crime and terrorism so much and so extensively. In an even further irony, to the extent that crimes are concealed from the public, it can frequently be the result of secrecy or spin from the government itself, not the press at all. It wasn't the press responsible for trying to present the Fort Hood shooting by Nidal Hassan as "workplace violence." (One my more frustrating experiences as a small town newspaper editor was having to explain to people that journalists actually have little leverage at making government agencies give up information at the snap of our fingers, regardless of what the open records laws say.)
When we look at Trump's war with the press, it's easy but also superficial to worry just about the implications on free speech. The effort to suggest that there are more terrorist attacks than have been reported by the media is an attempt to use fear to diminish support for important constitutional protections that value liberty over the security state. Worry less about what these rants mean for the likes of Anderson Cooper and more about what it might mean for you and your neighbors.
(Update: The White House has provided a "list" of terrorist attacks which it believes didn't get enough press coverage. It appears to include just about every single one over the past few years, including the San Bernardino attack, the Boston bombing, and the attack in Nice, Italy France.)