Kellyanne Conway Invents 'Bowling Green Massacre,' Uber CEO Quits Trump Economic Council, How Legalization Changed Teen Pot Use in Colorado: AM Links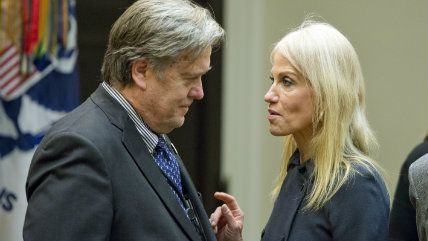 (Ron Sachs/CNP / Polaris/Newscom)
Ron Sachs/CNP / Polaris/Newscom

In an interview on Hardball Thursday evening, Trump counselor Kellyanne Conway defended his executive order on immigration by citing Barack Obama's response to the "Bowling Green Massacre," an incident "most people don't know [about] because it didn't get covered." It was not covered, however, because it is not a thing that actually happened.

White House Press Secretary Sean Spicer told a press briefing Thursday that Trump was putting Iran "on notice" because Iran had attacked a U.S. naval ship; in actuality, suspected Houthi rebels in Yemen (a group loosely linked to the Iranian government, but definitely distinct from it) attacked a Saudi naval vessel.
U.S. Senators voted 52-48 Friday morning to cut off debate about whether Betsy DeVos should be confirmed as the next education secretary, clearing the way for a final confirmation vote next week.
A man with a machete was shot by a French soldier as he attempted to enter the Louvre in Paris, in what police head Michel Cadot called "an attack by a person … who represented a direct threat and whose actions suggested a terrorist context."
Uber CEO Travis Kalanick has quit Donald Trump's economic council, according to the Associated Press. Kalanick told Uber employees Thursday that "joining the group was not meant to be an endorsement of the president or his agenda but unfortunately it has been misinterpreted to be exactly that."
The Colorado Department of Public Health and Environment (CDPHE) finds that teen cannabis consumption "has not changed since legalization either in terms of the number of people using or the frequency of use among users."
Eleven people were arrested after protesters stormed a room on the New York University campus where conservative pundit and former Vice editor Gavin McInnnes was speaking.
A Georgia bill would ban universities from initiating sexual assault disciplinary hearings unless a criminal investigation had been launched.
Follow us on Facebook and Twitter, and don't forget to sign up for Reason's daily updates for more content.